Writing and Reading Odds and Ends
1. Le Short Story.
From my buddy Roy, here's a nice essay on the short story.  Best quote from it:
"That grain of sand is the story's salvation. I take my cue from William
Blake: "To see a world in a grain of sand." Think of it: the world in a
grain of sand; which is to say, every part of the world, however small,
contains the world entirely. Or to put it another way: if you
concentrate your attention on some apparently insignificant portion of
the world, you will find, deep within it, nothing less than the world
itself."
The essay is by Steven Milhauser.
2.  Le Frenchman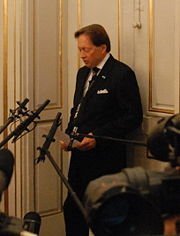 In case you hadn't heard, a Frenchman won the Nobel Prize for Literature. 
His name is Jean-Marie Gustave Le Clézio and I'm embarrassed to admit I'd never heard of him until he won.  I'm intrigued by him, though, especially given that he divides his time between Albuquerque and France.   Check out the list of all the Nobel Prize winners at their website.  Its kind of a cool site.  Who knew?  (The photo at the right is of the announcement.)

3.  Le Weekend
I don't have a three.  It's Friday afternoon and I've been trying to get to my novel all day and so instead of casting about for some fascinating tidbit to balance out this post, I'm simply going to wish you a happy weekend and go write for a bit.

Photo from Wikipedia,  published under the following Creative Commons license:
Attribution NonCommercial ShareAlike 2.0