Books
Emma Jean's Bad Behavior
At age 48 (43 according to her blog, Life, Full Tilt) best-selling novelist Emma Jean Sullivan has longed for a baby for years, but after she and her husband Peter are unable to conceive, she staunchly vows to become the standard bearer for all childless couples. And she succeeds spectacularly. Emma Jean's novels, up until recently, have sold millions, and she enjoys a rabid baby-hating fan base. But now she confronts a dilemma larger than any her heroines have faced: she's pregnant. And the baby's father is not her husband…..
Find out more and buy on Amazon.
Buy from Powell's.
Buy from Barnes and Noble.
Blue Sky (short story)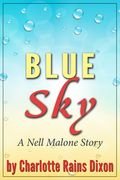 Nell Malone's life is changing, big time. Still grieving over the death of her husband two years earlier, she grapples with the empty nest syndrome as her daughter leaves for college. But a visit to Santa Fe yields new insights into herself–and the tantalizing prospect of a relationship with an intriguing artist. A short story about loss and love.
Find out more and buy on Amazon.