Promptitude: Wide Open Spaces
I just got back from visiting southeastern Oregon. 
The east side of Oregon is totally different from the west side of Oregon, where I, and most of the state's population, lives.  The east side is basin and range, gold and brown, mesas, cattle, warm, dry, long stretches of wide open spaces. The west side is green, rainy, lush, forested, hills and valleys, cities, people, business. 
When you live in a green, rainy city, visiting the open landscape of the east side of the state is mind blowing.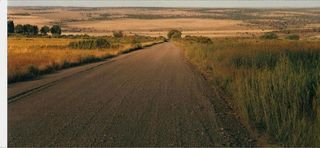 To wit: the photo on the right, which is an image of a dirt road on Steens Mountain, the peak that looms over the entire area.  (It also moves.  Depending on where you are in the landscape, it looks like it has changed location.  It is very agile for a mountain.)
So, for your writing pleasure, here are some prompts having to do with wide open spaces, rainy landscapes, and blowing your mind:
She couldn't believe it.
The road went on forever.
In the mountains, there you feel free.     (With thanks to T.S. Eliot)
Oh my God, really?
Rain dripped from the boughs of the fir tree.
When the car broke down in the high desert he started walking.
Cows mooed loudly as they hiked by the fields.
Snow fell on a cold April morning.
Fields of gold and brown caught the sunlight.
Only one hundred more miles to go.
PS–My friend Debbie and I reserved the Diamond Hotel for a writing retreat in April of 2012.  It is going to be fabulous, so stay tuned!