Blue Sky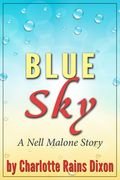 In the mood for a quick read? I've got just the thing for you–a short story! It's called Blue Sky, and you can buy it on Amazon for just 99 cents. Read it while on the treadmill, while waiting for your duaghter's gymnastic practice to end, or as you drum your fingers wishing that download would finish up.
Here are the details:
Nell Malone's life is changing, big time. Still grieving over the death of her husband two years earlier, she grapples with the empty nest syndrome as her daughter leaves for college. But a visit to Santa Fe yields new insights into herself–and the tantalizing prospect of a relationship with an intriguing artist. This is a short story about loss and love.
And some reviews:
"This is a wonderfully human story about our dilemmas, how intense they can be, and how our escape makes us who we are." J.D.
"A quick easy read, this story resonated with anyone starting a new phase of life." Danielle
"Dixon does a fine job herem with a well-written story that will resonate, I think, with any adult going through some difficult changes." Christopher