Otherwhere: Only One Day Late This Week!
It appears that Christmas is kicking my ass.  Appears that way, because it feels like I've been crazy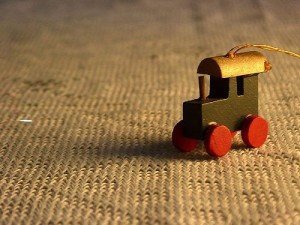 busy, so busy that I've not collected my usual round-up of links.  But I'm not running around shopping like crazy because I refuse to spend time in malls and do most of it online.  And I gave up writing Christmas cards years ago.  I do, however, decorate the house and spend tons of time with family.  This past weekend we rode the Holiday Express train in the pouring rain, which is a blast.  And today we're celebrating the four-year-old's birthday with corn dogs and mac and cheese. And let us not forget the cheese cake I made last night that has so much cream cheese and peanut butter in it that it weighs ten pounds, I swear.  You so want to come to dinner now, don't you?
Anyway, I didn't save links for you but I decided that I could still do my weekly Otherwhere post by sharing some of my favorite places on the web and you can go soak up all the richness of them yourself.   So here we go:
Writing
Writer Unboxed is a blog written by a variety of people, some better than others, but it is always worth checking out.
Jane Friedman always has the inside scoop on publishing.
Janice Hardy writes Fiction University.  I think she publishes every day, which is astounding, especially because her posts are usually full of useful information on writing.
For you freelancers, Anne Wayman's long-running blog About Freelance Writing has a bunch of great stuff, always.
Food
I just discovered Center Cut Cook and have founds some great recipes on this blog.  The author of it has her hands full with a husband suffering from cancer and a child with a serious medical problem so I always click on a few ads while I'm there.
I've been reading Kath Eats Real Food for years, and I'm not quite sure why because the constant perfection of the author gets a bit wearying.  But I do like her take on healthy food, so…
Okay, you really have to have a taste for rich food to follow The Pioneer Woman.  She's become an industry onto herself with product lines at Walmart and a Food Network show, but I like her photos of the cattle on the ranch.
Knitting and Stitching
Of course I couldn't resist adding a few under this category.
There's Mason-Dixon Knitting, which just started up again after a few month's absence.
And I love Fringe Association.  She's got fabulous items in her store.
Alabama Chanin speaks for itself. Swoon.
And Sublime Stitching always has interesting things going on.
Farming
Yes, farming.  I'm a confirmed city girl, but I love reading about people mucking about in the mud.  I really only have one favorite under this category and that is:
Celi's The Kitchen Garden. She runs a small family farm in Illinois and blogs daily, with tons of photos.  I marvel at her energy and fortitude and live very vicariously through her blog.  Though I'd love to go stay in her cabin and write for a week or two some time.
General
Oh, there's BuzzFeed, which is aimed at a demographic much younger than me as far as I can tell, but I enjoy it anyway.  Sometimes their stories make me howl with laughter and that's a great thing in anyone's world.
And there's Brain Pickings, which is an incredible weekly labor of love.
And Jezebel, also for younger women than me, but hey, I write women's fiction, I need to know what's going on in the minds of the younger generation. (Having a daughter and a daughter-in-law helps, too.)
Okay, honestly, I didn't expect the list to get this out of control.  I've got more, but I'll spare you and myself.  In the meantime, what are your go-to blogs?
Image by Jeff Belmonte, from Every Stock Photo.