Five on Friday: Glories of Coffee Edition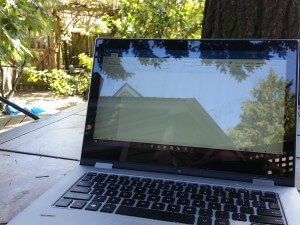 Good morning! Let's dive in.
What crisis occurred this morning: I woke to the news that the electric coffee pot was not working.   This was not good. This was very, very bad. I pulled out my phone and looked up the hours of the nearest Starbucks (luckily, we've got at least three within a very quick five-minute sprint) while hub plugged and unplugged the pot and pressed the on button repeatedly. It didn't help. Finally, he had the brilliant idea to boil water and pour it through. That worked. I have coffee.  I will not not murder anybody.
What I'm picking off my computer: Fir needles. It hit 85 degrees here yesterday, a record, and I sat outside beneath the fir tree and worked all afternoon. My computer was also covered in pollen when I came in, like absolutely every horizontal surface in this town. Which is why every human who lives here is sneezing, blowing their nose or itching their eyes, like me.
What I'm working on: I have a ghostwriting project that I'm really enjoying. Its an intense subject, but lots of good ultimately came from it.  We had some wonderful new students at our bi-weekly Wednesday Writers group this week, and we now have a good number sitting around the table talking about writing, all of whom are doing wonderful work. And I have several amazing  students and clients (Hi Mitch, Hi Courtney) who are producing regularly and several working quietly behind the scenes.  At least they better be working. (You know who you are–you're working, right?)
And workshops–I got workshops! There's the three-day Mapping Your Novel at Sitka Center in June (which is close to half full), France in September, which is one person away from being full, and COMING RIGHT UP is a workshop here in Portland called How to Write a Book. It is April 23, all day Saturday and it's going to be a ton of fun, so if you live here, join us.
Oh, wait, what, you want to know what personal projects I'm working on? Well, um, er, I haven't decided yet. I've got so many ideas for novels and stories in my head I've had a hard time landing on one. But I think I'm getting closer. I totally kind of drive myself crazy in the between-projects stage.  I can tell you another cool project I'm working on, though. It is going to be a series of prompt journals that I'm very excited about.  I'm creating these with my cousin's wife Nancy, also known as the Sister-From-Another-Mother.  Look for them to be out soon.
What I'm reading: Honestly, a pretty silly romance.  But the reason I'm reading it is that I've realized, duh, that women's fiction grew out of the romance genre,  so I figured it wouldn't hurt to go to the roots and see how books are constructed. The bare bones of the structure in a romance makes it easy to parse.
And then there's a book I'm not really reading, but more using as a reference. It is James Scott Bell's Revision and Self-Editing for Publication.  But really, it is about a whole lot more than revision. What I like about it is that he has short sections on various topics, such as character, setting, etc., with bullet pointed information that makes it easier to process. There are also longer swaths of exposition, but those are easily ignorable if you are so inclined, as I am. I got this book from the library and I've renewed it a couple times but I think someone else now has it on hold and it is overdue. So if you're the one waiting for it, I'm sorry! I'll get it back soon.
What I'm doing this weekend: Organizing my office. I know! I've said this every Friday for the last few weeks. But I've made progress, I swear. (Though if you saw the stacks of boxes on the floor of my office, you might not think so.) Last weekend we got the area where the boxes had been stored cleaned up. And there's just a few odds and ends left over to move down.  Things I rarely use and thus don't know what to do with.
I will admit that I spend very little time on the organizing during the week, because I'm so busy and important. That's a joke, by the way.  But it just always seems that the things I'm working on take priority.  If I were a brave woman, I would share photos of my messy office. But I'm not, so I won't.
That is absolutely all I have today. What's up with you?