Five on Friday: Itchy Edition
Good morning. It has been another week of lovely weather, though the record-breaking high eighties we had at the start of it were a bit too much for me.  Here's what's been going on:
The best thing that happened: Making a lion cake to celebrate my three-year-old granddaughter's birthday. Her four-year-old cousin came to help, and his mother, thank God. (We were both exhausted at the end of the day.)  The cake idea comes from an ancient pamphlet distributed by Baker's coconut waaaaay back in the day. It shows a variety of animal-shaped cake ideas, all sprinkled liberally with coconut, of course.  Olivia loves pouring through this little book. So we decided to make on. You can see the results.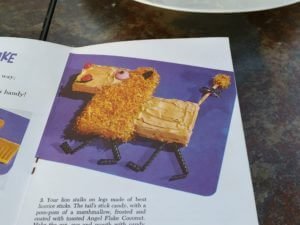 The worst thing that happened: Chiggers. Never in my life have I given any thought to the chigger. You probably haven't, either. I didn't even know they existed in these parts. Until yesterday, when I told my naturopath about the massive mosquito attack I'd endured earlier in the week. She took one look at me and said, "Those aren't mosquito bites, they are chiggers." Okay, that made sense. Because, A. I didn't know a mosquito could bite me in quite so many places (my legs are covered) and B. never in the whole entire history of the world, ever, have I itched so much.  Ever. I didn't sleep for two nights.
Chiggers like shady spots with high grasses and low bushes and I picked them up on Sunday when I spent the afternoon at the park to celebrate the above-mentioned granddaughter's birthday.  I'll spare you the gory details, but thanks to two scrubby showers and lots of cortisone cream, I slept last night and I think the chiggers are on their way out.
What I'm reading: The Charles Duhigg book I mentioned yesterday, Smarter, Faster, Better.   Also, a novel by Cathy Lamb I'm not quite sure about. I've never read her before so I don't know for certain, but it seems like a departure from previous books.  I'm reading it on Kindle and there are weird jumps that happen all in a rush and I can't tell if it's the formatting or the book.  I think it may be a crappy formatting job, because she's got a gazillion books published. I have a couple more in a to-read stack from the library, so we shall see.  Oh, and the main character of this one is not immediately likeable–she drinks way too much and has anger management issues–despite the fact that she has suffered a terrible tragedy that makes her act these ways. I'm interested in how other authors handle unrelatable characters since I have a tendency to write them.  At least that's what happened with Emma Jean.  The book is called The Last Time I Was Me and there's a pretty interesting Q and A about it here.
What I'm Sad About: The death of Prince, of course.  I was never an uber-fan, but I do appreciate how he has stretched the boundaries of music, the music world, and creativity.   He died way too young.   I also, shockingly, just heard of the death of a friend who spent time at our retreats in France.  I feel really bad about that. RIP, Joe.
What I'm doing this weekend: Teaching How to Write a Book at Another Read Through bookstore in Portland. It is a very small group and we have room if you want some individualized attention to your latest effort. Join us at the store at 9:30 AM Saturday.
What's going on in your life? What are you reading? What are you writing?