On Writing and the Olympics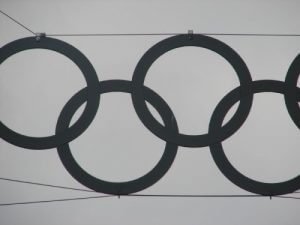 I'm ready. I've got two projects I want to finish, one knitted, one crocheted, on the needles, and I've warned my husband that we'll be eating our dinners in front of the TV for the next couple weeks.  Because: Olympics.  Because: Winter Olympics.
I love them.
I love watching the Olympics, especially the Winter Olympics.   I love the skating (all of it, from figure to racing), the skiing, the crazy jumping. Even the curling.  I love seeing the snow and how beautiful it all is.
I think I love it because I don't do any of these sports. Oh, I took figure skating as a kid after the doctor told my Mom it would be good for my ankle after I broke it. My sister and I got matching-but-different-color skating skirts and went to the mall every Sunday afternoon to wobble around on the ice.
And I had a brief shining moment as a skier in college. I was so into it that I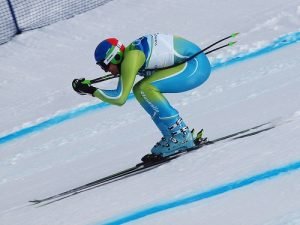 took a semester off school and lived and worked in Sun Valley one winter.  While I lived there that year, I got to see a World Cup race in person, which was pretty awesome.  As I recall, watching the races was easily accessible. These days it would probably be a mob scene.
And even though here in Portland we got tons of snow last year (well if tons means a dusting that shuts the city down every week) we don't often see a lot of it.  This year, one storm on Christmas Eve that only succeeded in ruining everyone's holiday plans.
So I watch these sports that are held on snow and ice every four years from the comfort of my home, likely holding knitting needles and a glass of wine. And, honestly? At this stage in my life I'm happy to be viewing from the comfort of my home.
What does this have to do with writing? One word: passion.  It takes passion by the truckload to become an Olympic champion and I submit it takes the same to become a writer.  Okay, so one is physical and one mainly mental.  Same trait, different arena.  And I think this has a lot to do with my fascination over the games.  I love stories of people excelling, no matter what they choose to excel at.
You and I won't may not ever make an Olympic team.  But we can excel at our own personal writing.  How? One word at a time, one writing session at a time. Over and over and over again.
One of my favorite current promos for the Olympics shows skier Lindsay Vonn as she prepares for her competition.   It intersperses shots of her as a tiny little girl first on skies, with her kicking ass in the gym and flying down the ski slopes.  It reminds me, every time I see it, of what it takes to succeed.
Yeah, you can call it grit or determination or discipline or whatever you want. But all it really is for us writers is to sit down over and over and over again and return to the page.
Hey–join the Prolific and Prosperous Writers Facebook group.  Lots of good stuff going on over there.
And–I'm going to France for the month of March and taking a couple lucky clients with me. Metaphorically, people.  I'm committing to work with only 2 people while I'm there doing mostly writing and I've got one person lined up. So if you need some help with your writing, be it encouragement or editing, pop me a line at wordstrumpet@gmail.com.