Charlotte's Monthly Round-Up Love Letter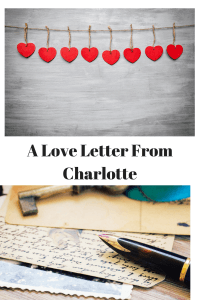 Okay, so I probably should have done this last week, because we are already six days into the month, but I just thought of it. I'm talking about a new feature I'm trying—a monthly round-up of what's going on in my writing life. Hopefully you will find things of use to you.
Outside my office window, the blossoms on the cherry tree are already fading. I can't believe it is May! My month in France seems like a distant memory. And it is—I've been home nearly a month and a half. I've been busy working on my rewrite (see below), organizing my office, teaching, and working with clients. Oh, I also do quite a bit of shepherding of small children. (In case you need catching up, my daughter and her family moved in with us in March.)  It's like being a parent all over again, only at least this time I can go close the door to my office. (Never mind that my office is the most favorite place of the two miniature humans who now live with me.)
Often sometimes I long for the gentle pace of the days in France, but I feel pretty blessed to have so much going on here.  We're settling into a good balance. And if all else fails, there is wine. So let's get to it.
What I Read
Train Your Brain, by Dana Wilde.  This book covers familiar ground—what you think affects your life—but the author writes about the topic in a way that I found convincing and easy to grasp. I'm a total wonk for brain stuff, and she talks about it without getting too science-y for me. Woo-woo warning: the topic lends itself to the woo, can't be helped, so if this is not your thing, stay away.
A Gentleman in Moscow. I am loving this book. I bought it in hardcover for my husband a year ago Christmas. He read it and loved it but I ignored it. Finally picked it up and it's so good. Amor Towles writes in an elegant style. He is also very good at dropping you into a scene, and explaining later. Something to emulate.
The Hazelwood, by Melissa Albert. Wasn't thrilled with this one, though I had high hopes for it. I got confused with all the activity in the other world they enter and thought it went on a bit long. But points for inventiveness.
Digging In, by Loretta Nyhan.  This was a good garden-variety (hahahaha, I crack myself up) women's fiction novel about a protagonist getting over the death of her husband through gardening. That she pisses off the home owner's society in the process is a fun bonus.
On My To-Read List
Love and Ruin, by Paula McClain.  This is about Hemingway's third wife, Martha Gellhorn, who was quite a star in her own right. She was a globe-trotting journalist in a time when that was relatively rare. I've always wanted to know more about her.
Willpower Doesn't Work, by Ben Hardy. I hear this is a great book on productivity, which is a topic dear to my heart. I also recommend his newsletter.
What I'm Loving
My rewrite.  I was having hand-wringing fits about it earlier in this month. But, finally, I've reached some momentum on it again. I'm rearranging chapters and man, does that get complicated. My friend Mayanna says I need to get Scrivener for this. But when I've used it in the past I've ended up so frustrated I ditched it. Your advice?
What I'm Excited About
I never thought I'd want to teach writing. But when I got my MFA, there was a built-in component on teaching. From there I got hired to teach at MTSU in Nashville (distance program) and turns out I love it! I learn so much from my students and also from the process of figuring out how to share what I know.
Debbie (my teaching partner) and I taught a class on motivation yesterday and it was a lot of fun. Tricky topic—one of those ones that sounds so easy but is really quite complex. We're teaching another half-day workshop here in Portland on May 19th, this one on arc—another tricky topic.
I love these classes because they are very hands-on. We build in lots of time for in-class exercises and discussion, which makes them more fun. And, I submit it is a better way to learn than to listen to one of us lecture on and on.
This is the same format we follow for our France workshops, and we just happen to have a couple openings. You know you want to come study writing (and write) by the shores of the Mediterranean in a charming town. Right?
What I'm Listening To
So, try as I might, I haven't gotten on the podcast wagon. Because I'm so visual, I don't process information auditorily well. That makes it hard for me to retain information I hear.
And, I don't listen to music while writing because it distracts me. So, sorry, no play lists from me. But I do like to listen to music at other times and since we were gifted an Echo from Amazon (which we usually just call the Alexa, since that's the name you use to get her to do something) we've been listening to a ton of it. So far, we've not been able to stump her, although my son said he asked her to play Frank Zappa and she didn't know him. Shocking!
On The Blog
Is It Procrastination or Percolation?
The Usefulness of Thinking Small (In Writing and In Life)
Write It Imperfectly, Do It Imperfectly
The Ritual is Opening the File (How to Get Your Writing Done)
How About Some Writing Prompts?

On Story Questions and Traveling Home
I'm hoping that May brings a lot more of the same—writing, reading, working with clients—only that more of it will be done outside! What about you? How is your writing going? What have you been reading? I'm always in the market for new titles. Leave a comment and tell me everything.
(This post contains some affiliate links)