Free Book Offering: Going To A Place Far, Far Away
Well, its not that far, really.  I'm heading up to the Washington coast to visit my Nashville friend Sue at her father's place.  What makes it feel far, far away is that there is no internet service and no cell phone service.   No blogging!  No Twitter!  No text messaging! 
However, I'm only going to be gone until tomorrow.   I'm taking my camera and since my new end-of-the-year resolution is to snap lots of photos, I'm hoping to come back with many of them to share.  In the meantime, here's a photo I took last night of the Christmas train at Oaks Park: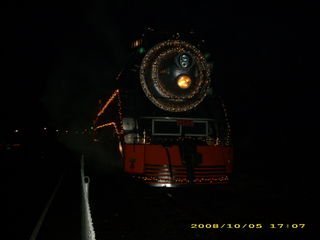 Not quite sure how to get that date stamp off it.  Words are my forte, not photos. 
Which brings me to the point of this post.
I'm feeling a bit tired of it all and in need of some inspiration, which is where you come in.  I want to know what you want to read about in terms of writing, and what you need to know.  If you feel so inclined, pop me an email at wordstrumpet@gmail.com with answers to the following questions and in return I'll send you a free beta bcopy of my Ebook, Set the Words Free.  (But bear in mind that I'm going to be out of wireless range for a few days and thus will not be getting back to you with it until the end of the week.)
1. Do you write:
fiction
screenplays
nonfiction
poetry
2. What is your biggest writing problem?
3.  Do you struggle more with finding time and motivation to write or issues with craft?
4.  Are you a published writer?
5.  If not, do you aspire to be a published writer?
6.  If yes, what do you aspire to publish (ie, novel, short story, get a screenplay optioned, poetry, etc.)
7.  Do you aspire to make money writing?  If so, in what area?
8.  What kinds of posts are most helpful?
9.   What kinds of posts do you enjoy the most?  (ie, life of a writer or craft)
10.  What is your biggest writing goal for 2009?
11.  If you are a regular reader of this blog, what brings you back to it?
If you only want to answer a couple of questions, that's cool, I'll take any and all feedback.  Thank you so much and I'll be back with photos at the end of the week.