I'm perfect.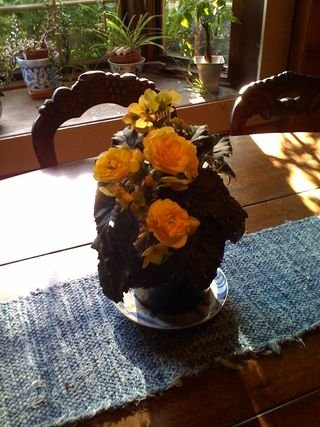 I am.  I am poised, intelligent, attractive, talented, funny, loyal, passionate.  Like I said, perfect. 
And, already you are bored with me and ready to go elsewhere to read because who can relate to perfect?  Already you are thinking, well, if she's perfect than I have nothing in common with her at all and what exactly do all those general terms mean anyway?
So try this instead:
I'm not perfect.  I'm way too judgmental, not good with details, have a terrible habit of rebelling against authority just because it is authority, I veer from crazy deep emotion to extreme containment of it, sometimes I lack focus, I eat too fast, I am currently not exercising enough, I get so excited when I'm talking to friends I interrupt…
Now don't you like me a lot better?  And aren't you way more interested in me as a person?  And, not that you are not perfect, but can't you relate to my faults a bit better than my perfection?
In a post I wrote last week, I discussed the Top Takeaways from the Writer's Loft, specifically, the workshop that Richard Goodman hosted.   One exercise focused on making yourself likable as a narrator by sharing a fault.  This, Goodman said, "provides the reader some freedom."  It allows the reader to feel that the writer is like him, and creates an emotional bond.
And, it is a lot more interesting.  Conflict and imperfection is far more compelling than calm and perfection.
Alas, this is why we have wars.
But I'm a writer, not a warrior, so back to our topic.  Goodman talked specifically about finding fault in terms of narrating memoir, but it also applies to fiction.  Think Holden Caulfield or Jean Rhys (his examples).  And think, too, of the memoirs you've read in which you fell in love with the narrator.  Chances are, they had a fault or two. 
During the Writer's Loft workshop, the readings that came out of this exercise were some of the most entertaining all day.  One participant wrote of his fear at facing a roomful of college students he had come to teach, another wrote a humorous paragraph about always getting lost.  We laughed at these pieces, but we also felt a kinship with their authors.  Who hasn't obsessed over having to speak to a group of people, or gotten themselves good and lost?
In my own novel, the narrator Emma Jean is loudly judgmental, thinks very highly of herself, and gets herself into trouble by flinging herself headlong into new things.  People like her because of her faults.  (And, um, she's not based on me at all.)
So if you are writing memoir, share a fault or two with us.  We'll like you lots better.  And if you are writing fiction, give your characters some faults so that we know they are just like us.
Anybody have any suggestions of famous flawed narrators?  Feel free to leave your ideas in the comments.
***Thanks to Jessica, who left the comment asking for more information on this topic, and thus inspired this post.
And, by the way, the photo of flowers is supposed to epitomize perfection.  Not sure if you would get that or not, so I felt compelled to explain it, which means it is probably not working as an illustration.