Make the Words Flow
I noticed something this morning when I was in the middle of writing an email.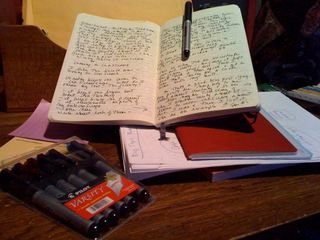 The words were flowing as smooth as a glass of fine wine. 
I started paying more attention.  And realized that I was allowing myself to go a bit deeper emotionally in my response.  So I stopped and thought for a bit, and realized why this was. 
Because I've been jingling every morning again.
Now, I'm an inveterate journaler.  I've written about journaling over and over again, so much so that you are no doubt sick of it.  Recently, I was reading Katrina Kenison's memoir, The Gift of an Ordinary Day, and in one scene she is delighted to find that over the last 18 years or so, she has filled 10 to 12 journals.  Um, I'm filled hundreds.  I have tubs of them in the downstairs closet, and more bursting out of cardboard boxes in my office.  So I've got some journaling cred.
But every once in awhile I take a break from it.  I decide that I should get right to my novel writing first thing in the morning, since it is the most important thing in my life and all the experts say to do that first.  So I shun my journal and go do my other work. 
And then something calls me back.
I pick up my journal again and before you know it, I'm writing like crazy every morning, and then sometimes several times a day.  And I have to admit, as I realized while writing the email, my work is better off for it.  Here, I've decided, is why:
The words flow more easily
The process of going deeper comes naturally, without effort
I'm more connected with my emotions
I notice more
Writing breeds more writing.
Take special note of that last item.  If I take time to write in my journal, those words breed more words. Has anybody else ever noticed that?  The more I write, the more I'm capable of writing.  It is almost magical.
One of the reasons this may be is that the act of writing in my journal shakes loose the muse and often what I write about is how I want to do a certain scene in my novel.  Nearly every day, a blog post comes through.  I get ideas for all kinds of things.
So.  Writing in your journal doesn't have to take up your whole day, and it doesn't have to be first thing in the morning.  Pull out your moleskine at lunchtime and write for 10 minutes, or have a mini-writing session during your afternoon coffee break.  You'll be amazed at what happens.