Taking a Break
Last weekend, I left home for a night to head south to Eugene, home of my alma mater, the University of Oregon (Go, Ducks!).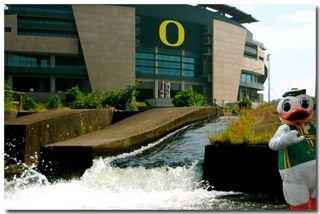 This may shock you–it shocked me–but I didn't even turn on my computer the entire time I was gone.   And I had a blast.   We ate at Rennie's and the Glenwood, two old favorites, stayed at the New Oregon motel, shopped at the U of O bookstore and the wonderful local yarn shop, walked along both sides of the Willamette river, and went to a surprise birthday party at fabulous house.  All in 24 hours.
I came home refreshed and with a slightly different outlook on life, which is what getting away will do for you.  Yet I don't do this often enough.  Yes, I travel a lot, mostly to Nashville and LA, but that is always at least partially for work.  Heading out for a night or two nights just for fun is an entirely different animal, and one I like. 
So, this may be as shocking as not turning on my computer for 24 hours, but now I'm going to advocate the benefits of taking a break from your writing.  And by taking a break, I mean taking a break break, like a mini get-away, or an afternoon off to wander by the lake.  Maybe you could think of it as an extended Artist's Date, the activity Julia Cameron urges everyone to partake in. 
Whether you decide to go for a big break or a small break, some time off can have a salutary effect on your brain, and since writing comes from the brain, by extension a break can have a great impact on your work.  So, herewith, my list of Reasons Why You Should Take a Break:
Because it clears your mind.  And, I don't know about you, but mine usually needs clearing, bad.  I get into this one-with-the-computer mentality wherein I sit and work for hours.  As part of my new program to take breaks more often, I'm also going to take mini-breaks, and get up from my desk every half hour.
Because it opens new vistas.  Just seeing different stuff is good for the brain.  And it's great for writing, because the writing muscle strengthens with new input.
Because it reminds you of what is important.  Like spending time with family and friends and gazing at the river.  Having a beer with lunch and finding fountain pens–a whole amazing, lovely set of them–at the bookstore.   Looking for nutrias in the Millrace and hanging out in the motel room just because it is fun to be there.
Because it refills the well.  Come back to writing after taking a break and suddenly the words fly across the page.  Why?  Because you've refilled the well, which easily gets depleted if all you do is pull from it.  Once in a while, you need to put stuff back in.
Because sometimes we just need to be, not always do.  Enough said.
Because it energizes you and makes you eager to get back to your life.  The best thing about leaving is coming home, right?  And even better to come home full of ideas and energy.  And with fountain pens.
What are your favorite ways to take breaks from writing?
***Photo by d70focus, courtesy of Flickr, via Everystockphoto, my go-to place for pix.