The Place You Write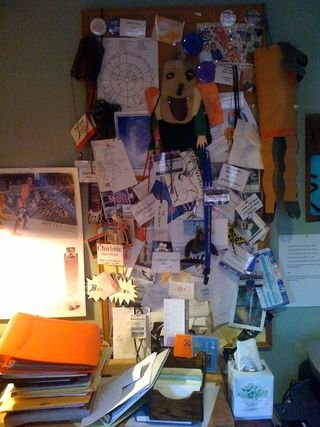 I write in my upstairs office which is a converted bedroom.  As I'm writing this post, rain is pounding on the windows and if I turn my head and look out the window, I can see into the backyard, which is lush and green and full of just-blossoming flowers.  At least they were ready to blossom before this massive rainstorm came in last night.
This office is the place where I most often write.  It is actually the place I spend most of my time.
I started thinking about what my office means to me because I've inadvertently been writing a series on place.  It began with a post last week on having a place to go in your writing.  Meaning, that you leave off in a place that will give you an easy starting point at your next writing session.  And then I wrote a post about the role of place in your writing.  What settings inspire you?  What locations do you set your characters in?
And so today it seems fitting to end this mini-series with a post on where you actually perform the magic.  I also recently wrote a post about organizing my office, which those of you who come here often know has been a long, drawn out process, mainly because I only find an hour here and there to work on it.  So my writing place is in transition at the moment.  When I return from Nashville mid-month, I'll be buying a complete new office set from Ikea, for which I can't wait. 
But even in its current almost-organized state, it is the place I love best.  And I loved it when it was terribly messy, too.  I love it because it is all me–my books, my supplies, my furniture choices, my weird things hanging on the wall, my bulletin board covered with nametags from conferences and old artwork the kids did  years ago.  I'm surrounded by my reference materials, including binders full of old stories that I've written and a shelf of my published books and magazine articles, and I love working in the midst of the fruits of my labors.
I haven't always had a room of my own in which to write.  I started out using a big old desk that came from my father's printing plant.  It was set up in the corner of our bedroom, and how we fit it in there, I don't know.  Then I set up a desk in a makeshift corner of the then-unfinished upstairs.  When a fire swept the second floor, it miraculously stopped just short of my office, meaning all my computer and all my old writing journals were spared.  (Though the cleaning crew who swept in to rid the house of the smell of smoke took every journal and wiped down every page.)
When we moved back in after the fire, I set up in a spare bedroom downstairs.  I loved that space, but my son claimed it for his bedroom.  So when my daughter went away to college, I claimed her upstairs bedroom, which I continue in to this day.  And even though I have a laptop and can write anywhere, I spend most days ensconced up here.  Sometimes I take my computer and hit the neighborhood coffee shop and upon occasion I go downstairs to the family room or the kitchen for a change of venue.  But most often I'm right here at my old desk, which is soon to be replaced by a new one. 
You don't have to to have a room of your own to write.  It is nice, that's for sure, and you deserve one.  But you don't have to have one.  Back in the day when my desk was in the bedroom, I often hauled the typewriter out to the kitchen table to write so I could keep a better eye on the kids.  But what you do need is at least a little bit of space to call your own, even if it is a cupboard that you store your papers and computer in and close up when it is not in use.  
So what about you?  Where do you write?  Do you like writing there or do you long for a different space?  Do you do your best writing at home, on a break from work, or at Starbucks?  I'd love to hear about the place you write.