My New Office
Because my loyal readers have listened to me bitch and moan about the ongoing reorganization of my office for the last six months, I promised photos of the lovely new space.  I know you've all been holding your breath with anticipation, the way you do when you drive through a tunnel, but now you can exhale because the day is here.  Photos of my office ensue!
Ready?  Here we go: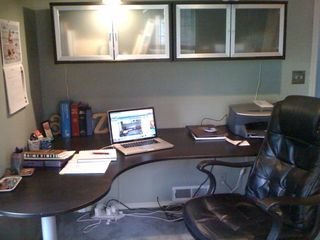 This is the mothership, my Ikea Galant desk with frosted glass door cabinets installed on the wall.  Ignore the mess of cords on the floor.  Isn't it funny how photographs highlight flaws?  (They also add ten pounds to medium to large people and subtract ten pounds from thin people.  Its a law of physics, I swear it.) 
This is the opposite side of the room, my chair and desk area.  I sit here every morning to write in my journal and do good-for-me things like meditate and read books that inspire me.  This morning I listened to the heavy rain and the birds singing and wondered where the birds were hiding to get away from the ongoing downpour.  Probably in the kiwi that is slowly taking over our backyard.
Below is the lovely freestanding shelf, which matches the cabinets.  Note frosted glass doors.  Behind them my entire life's work is organized into binders that are neatly labeled.  The best office tool in the whole world is a label maker.  I label everything.  And I mean everything.  Once a few years ago my daughter and I took my Mom to a wedding in Tahoe, where we stayed with a bunch of other relatives in a rental house.  The owner of the home had labeled where everything was supposed to go.  Like there would be a neatly printed sign that said, "towels" above the towel rack in the bathroom.  A label for where the coffeemaker was supposed to sit on the counter, and every blessed bit of space in the cupboards was labeled.  That's what my office is someday going to look like because I love my label maker so much.
My file cabinet, which is not yet full because I haven't gotten to it yet.  Atop it is my collection of glass paperweights that seem to find me–one from when I was on the board of Willamette Writers, one I got when I got my MFA from Spalding, and one from my beloved Loft.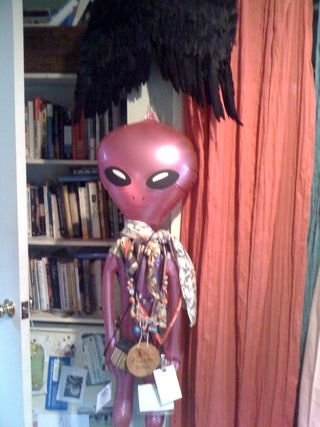 Finally, and most important, my muse, the alien I got years ago at the Grand Floral Parade, in his new location beneath somebody's cast-off angel wings.  My alien likes lanyards with name tags on them, odd necklaces and jaunty scarves.  He has a very distinctive cry when one brushes past him.  All these years I've had him and the thought occurs I've never named him.  Anyone have any ideas?
So that is it, the photographic tour of my new office.  I love it.  You can see the photos of the moving out process here, and then you'll understand why I love this new space so much.  It is far less cluttered and there's more room for my brain to expand and create.  Leave any ideas for the alien's name in the comments.  (Note: all wonkiness in photos and accompanying text is thanks to Typepad.)