Losing My Mojo, or, A Ray of Light
There was an article in the Sunday Oregonian yesterday about all the crises we face in the world–the oil spill, war, the economy–and how they are getting people down.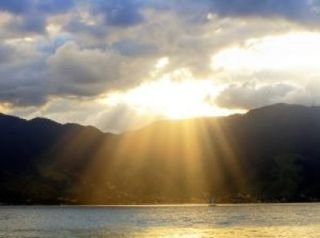 No, duh.
Usually I am immune to the tyranny of news stories.  Aware, but immune.
Lately, though, I've let it all get me down.  Yesterday, as I tried to work on a piece of writing, I got totally distracted by coverage of a local story, a missing seven-year-old boy, who one minute was happily running down the hall of his school and the next was gone. I was feeling down and discouraged.  Sad about the boy and worried about his mother.  Frustrated by the lack of progress in finding an agent for my novel. (Which absolutely, utterly pales in comparison to the plight of the missing boy.)
And the thought came to me, unbidden:
What if you could be the ray of light in all of this?
I know, it sounds ridiculously new age and schmaltzy.  But my brain works that way sometimes.  Yours probably does too, you just won't admit it publicly.
So, what if I could be a ray of light?  What if you could?  What would we do?
I dunno, I really don't.  But here's a few ideas:
1.  Quit watching the news.  Okay, I don't watch it.  But I read the newspaper.  And I read internet sites avidly.  And even if I could lessen my exposure just a little bit, I would make a better light.
2.  Meditate.  I have an off and on relationship with the practice.  But every time I get into an on period I feel much better.  Clearer.  Dare I say it? Lighter.  More in touch with myself, connected with the universe. 
3.  Write more.  It's the cure for anything that ails you.
4.  Find other creative outlets.  I like to mess around with painting, for instance.  Or needlework.  Or gardening.  Creativity, like writing, is the best revenge.
5.  Read more books.  Good books, classics or great examples of contemporary work.  And read fewer things on the internet.  Except for this blog, of course.
That's five.  Not bad for a discouraged person.  Actually, pondering ways to not be discouraged is quite helpful.  I feel better now.  Think I'll go have a glass of wine.  And maybe that deserves a number, too!
6.  Drink red wine.  And that makes me think of another one…
7.  Hang out with people you love.  Because that is what it is all about, isn't it?

Join me as I grope through the dark.  What are your ideas for shining light in these perilous times?  Or just for getting us all through Monday?