What Would You Write About?
Yesterday, while procrastinating before getting to work making sure I stay informed on what's going on in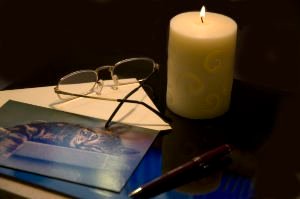 the world, I ran across the story of a woman who recently died.  Earlier this spring, she started getting odd pains in her legs, and on April 15th of this year she was diagnosed with cancer and told she had but a few months to live.  Tragically, she died on July 6th, leaving six kids and a husband behind.
What made this story really different was how Amy reacted to her death sentence.  She got busy doing things for others and making sure that her family was set.  You can read about it on the blog her husband writes.  As I read the blog, I asked myself, what would I do if I were diagnosed with terminal cancer at this very moment?
The answer came swiftly: I'd start writing.
What would I write?  Well, for starters I'd write:
My life story, such as it is
Letters to everyone I loved
All the stories I haven't yet gotten out on paper
But, what, specifically, would I write about?  If I had only a couple months to live, what would my legacy be?  What would I most want to write?
I would want to write about the sound of birds outside my office window at this very moment, and the lush green swath of kiwi plant that I see when I glance outside.  I'd write about how perfect my daughter looked the day she was born and how scrunched up and alien-like my son looked.  And I'd write about winter days of rain in Oregon, and how much I love the sky in New Mexico.
But that would be just for starters.  Because then I'd want to write about the people I've loved in great detail, how one of my friends has the Parkinson's shuffle and stare, even though she's not yet 55, and despite it all she drags me to Zumba with her.  I'd write about each family member and friend, trying to find the key that made them sho they are to me.  I'd write about pets.  I'd write about places I lived and traveled and people I met along the way.  I'd write about objects and furniture and the things I've loved most, like paintings and sculpture and outsider art.  I'd write about orchids and knitting and how I used to love to sew, and how I adore candles and perfume and old-fashioned sachets.  How I can spend hours at the office supply store or the bookstore, but would just as soon skip grocery shopping.
I'd write about everything I could think of and then I would start to draw conclusions.  Lessons for living.  Examples of what I've figured out along the way.  Brilliant bits of advice for those who remain.
And, of course, this begs the question, why not now?  Why not just start writing all this now?  Why not wake each day and write like you don't have much time left?  Put every single damn thing you've got on the page and then write even more.  What better legacy could there be?
I think maybe its time to get started.  (And, no, I have no terminal illness.  Except tomorrow is my birthday, so perhaps it is natural to think about one's legacy on such a day.)
What about you?  What would you write about?