Seeing Through New Eyes
I've had a friend from Nashville visiting since last Wednesday.
She's never been to Oregon before, so I've been showing her around.  We drove to the beach for the day, wandered around the Alphabet and the Pearl districts, drove up the Gorge, and visited a variety of my favorite places to eat.  She met my family and endured a faintly riotous dinner on our new deck with all of them last night.
And because I've been showing her around, I feel like I've been seeing my hometown and environs with new eyes.
It is the same kind of freshness of outlook that comes from traveling, I think.  When you approach a place either for the first time or with someone else for whom it is the first time you just see things differently.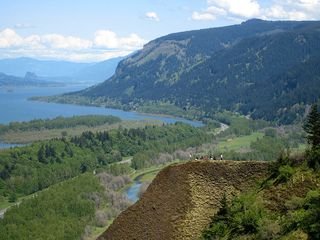 That photo to the left is the Oregon coast. Pretty inspiring, huh?  It is a short drive of about one and a half hours from Portland.
The photo to the right is the Columbia River Gorge, taken from Crown Point, looking east.  It gets even more beautiful as you go.
I'm appreciating anew how I live admit the most gorgeous and scenic country in the world.  Plus, we have had a spectacularly perfect summer, temperature-wise, with highs in the 80s most days and low humidity.  I am sorry to tell those of you sweltering through 100+ heat that.
Anyway, my task now is to translate this fresh new outlook to my writing.
How about you?  What is your favorite way to get yourself a new viewpoint on life?