Inspiration Friday: The Idea of Frenchglen
Next week I'm going to a place in southeastern Oregon called Frenchglen.  It is little more than a wide spot in the road, with a hotel, general store, school, and a few houses, as I understand it.  I wouldn't know for sure, because I've never been there.
But I'm greatly enamored of the idea of the place, and I've been thinking of it with anticipation all week.  Which is why Frenchglen is my Friday inspiration, because the idea of this series of posts is to write about what has most been on my mind during the week.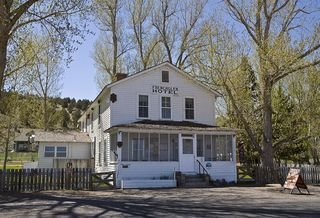 And yet, since I've never actually been there, I can't be sure that my idea of the place will jibe with reality.  But here's why the idea of the place inspires me:
–Because it is remote.  Sometimes I think about just chucking it all and going to live someplace in the middle of nowhere.  As long as I have my writing and my books I'd be happy, right?  In truth, I'm way too much of a city girl for this to ever happen, but I love that the idea exists in the world.
–Because it is near the mountains.  I love, love, love being in the mountains.
–Because it is someplace new.  Nothing better than visiting new places to get inspired.
–Because I get to write while I'm there.  Nuff said.
–Because there is no internet access.  Awk!  After I get over the panic, I'm sure this will be very inspiring.  Well, I'm sort of sure.
–Because the scenery is supposedly beautiful.
So, there you have it, my Friday inspiration.  What inspired you this week?  A person, place or thing?  A news event?  Something related to writing?  A book? 
*Photo by Cacophony.  I found it on Wikipedia.