A Month of Giveaways for Writers!
It's December, I'm in a holiday mood (my Christmas tree is already up and I'm in the process of finishing the decorating) so I've decided to give things away.  Not just once, but four times.
Here's how its going to work: on Monday, I'll announce the prize and ask a question related to writing.  You answer in the comments, and on Friday I'll randomly pick one of you to win the prize.  Please note: I'm not choosing you on the basis of the brilliance of your answers, so don't worry about that.  Just comment and you get a chance to win. (Also, all my commenters are brilliant and I adore and appreciate every one of you.)
A different prize will be announced every Monday in December, so come on back and check it out!
Okay, ready to find out what the first prize is going to be?  Drum roll, please….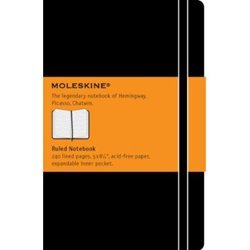 A Moleskine journal.  A Moleskine Classic Ruled Large notebook, to be precise.
I love Moleskine journals.  The paper is smooth and easy to write on, the basic size is easy to transport and you can manipulate the spine in various ways so as to make it easy to balance on your knee and scrawl in, if need be.  (The drawback with many perfect-bound journals is that you can't turn the cover back on itself and sometimes writing in a book that only opens flat can be awkward.)
Also there's an iconic feeling to the Moleskine, perhaps because generations of authors and writers and artists have used them throughout the years.  Writers such as Ernest Hemingway and Bruce Chatwin.  Artists like Vincent Van Gogh and Pablo Picasso.
But, mostly I use Moleskines because I like them, plain and simple.  And when it comes to journals, you should use what you like, because if you do, you'll write in it more often. By the way, I've written a bit about journaling in this blog, and here are some of those posts:
The Writer's Notebook: Loving Moleskines
Journaling, One Path to Writing Abundance
Practical Considerations For Journal Writing
Okay, okay, here's the part you've been waiting for.  Just answer this question and you'll be entered into the contest to win a Moleskine:  Do you write in a journal regularly? Does it inspire your creative writing?  (Yeah, I know, two questions.  Consider it a Christmas bonus. Answer one or the other or both.)
Catch you back here Friday when I'll announce the winner!
(Also, please note, I have nothing to do with Moleskine, I just love their products.  They are not sponoring this giveaway, I'm doing it all by my little old self.)