The Delicate Tension of Being a Writer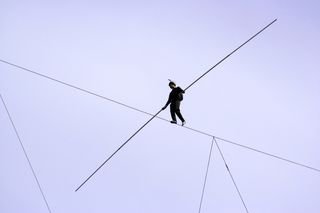 When you're a writer, you are always pulled to write.
If you're like me, and I fancy that you are, because we writers share odd (yet wonderful) traits, you're constantly thinking, I should be writing.  Or, I wish I was writing.  Or, why aren't I writing?
The pull of the story is always with us.  And that creates a constant tension in our lives.
Do you remember what it is like to live without this tension?  I don't.
Because the desire to find time to write colors every day.
I think this same tension is present in the lives of other creatives–artists and musicians and dancers.  It is the urge to create, the pull to make something from nothing, the yearning to put something of ourselves into the world.
My favorite line from The Artist's Way is something to the effect that we are most in God's image when we are creating, seeing as how He created the world.
And so even though I live my days with a constant undercurrent of tension, and somedays I think that life would be easier without it, I welcome it, because that tension causes the compulsion to create.
And without it, my life would be pretty damn dull.
PS–Please note the snappy new tagline.  Cool, huh?  I feel it is more in line with what this blog actually covers.  Also please note below my new effort to help you take the ideas discussed here and pull them into your own life.  I'd love to hear what you think of all this.
*Create a successful, inspired writing life: Sit in silence for a few minutes.  (Doesn't even have to be that long, trust me.) What's the tension in your creative life?  What is it calling you to create?
**Comments are welcome: do you feel a creative tension in your life?  How does it compel you to create?  Or is it a hindrance in any way?
***Don't forget to sign up for my free newsletter and Ebook!  Just fill out the form to the right.
Photo by _gee_.