Guest Post: A Day in the Life of a Writer, Author Cynthia Haggard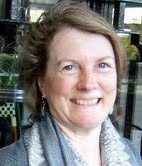 A Day in the Life of Writer
I dream that I am sitting on a chair in an ocean cruiser, two rows back from the Queen. Yes, that's right, I'm sitting right behind the Queen of England, or would be were it not for her numerous relatives sitting in the row between us. A bell sounds. My eyelids flutter. I glimpse the clock. Six o'clock, and I must force myself out of bed because I have a yoga class at seven.
I wriggle my way into a seated position, the thrill of being so near the Queen fading as night fades into day. I go to my yoga class, do my shopping afterwards, carry it home in my backpack.
I unpack it, soak myself in a hot bath, and get ready for my day. By ten o'clock I'm finally ready to write.
"Corfeeee!" My husband's voice intrudes from the room across the way, where he is taking his bath. Sighing I rise, and make a cup of espresso, remembering to add two teaspoonfuls of sweetener. My husband is unable to function without at least one cup of it. And now he's buried in student papers, propped up on a wire thingy that crosses the bath, and also prevents his laptop from getting wet.
I return to my desk. Where was Cecylee when last I saw her? Was she having an argument? An argument with Richard? But they had a great many disagreements— "Sweetie! Where are my glasses?"
I rise up and hurry into our hallway. My husband is dressed for the day in cords, leather jacket and felt hat. He's looking around, turning over papers, rattling keys. I hunt around and retrieve them. They were sitting on the table right behind his chair.
"You put them there!" he laughs.
"I did not," I reply, kissing him, knowing that he loves to accuse me of hiding things. When the truth is that I've become very good at finding things he's constantly losing.
He gives me a squeeze, and strides off down to the garage, where he'll drive the car to the university.
I sit down again. Nothing happens to fill the blank in my brain. Speak to me please. But Cecylee folds her arms and taps her feet. She doesn't take kindly to being interrupted.
I read what I've written, and do a light copy-edit. The phone rings.
"Hello," says a well-known voice. "We're having dinner tonight with—" And my husband names three other people. "Could you get up and look in the fridge?" I rise up, carrying the cordless phone while I peer into the fridge. How can I complain about a husband who is such an enthusiastic cook? So we discuss the menu, for a while.
Back to the desk. Cecylee is positively seething. But you know all about husbands, I say.You were married to yours for twenty-three years. You know how difficult they can be.
She relents, and tells me more of her story. Hours pass. Finally, I look at the clock. I am tired and it is three o'clock in the afternoon. Time to have a late lunch, before I get on with the rest of my day.
Cynthia Haggard is the author of Thwarted Queen.  Here's a bit about the book: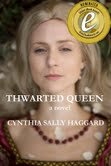 Cecylee is the apple of her mother's eye. The seventh daughter, she is the only one left unmarried by 1424, the year she turns nine. In her father's eyes, however, she is merely a valuable pawn in the game of marriage. The Earl of Westmorland plans to marry his youngest daughter to 13-year-old Richard, Duke of York, who is close to the throne. He wants this splendid match to take place so badly, he locks his daughter up.
The event that fuels the narrative is Cecylee's encounter with Blaybourne, a handsome archer, when she is twenty-six years old. This love affair produces a child (the "One Seed" of Book II), who becomes King Edward IV. But how does a public figure like Cecylee, whose position depends upon the goodwill of her husband, carry off such an affair? The duke could have locked her up, or disposed of this illegitimate son.
But Richard does neither, keeping her firmly by his side as he tries to make his voice heard in the tumultuous years that encompass the end of the Hundred Years War – during which England loses all of her possessions in France – and the opening phase of the Wars of the Roses. He inherits the political mantle of his mentor Duke Humphrey of Gloucester, and become's the people's champion. The rambunctious Londoners are unhappy that their country has become mired in misrule due to the ineptitude of a King prone to fits of madness. Nor are they better pleased by the attempts of the King's French wife to maneuver herself into power, especially as she was responsible for England's losses in France. But can Richard and Cecylee prevail? Everywhere, their enemies lurk in the shadows.
This book is filled with many voices, not least those of the Londoners, who forged their political destiny by engaging in public debate with the powerful aristocrats of the time. By their courageous acts, these fifteenth-century Londoners set the stage for American Democracy.
And here's a bit about Cynthia Haggard:
Born and raised in Surrey, England, Cynthia Sally Haggard has lived in the United States for twenty-nine years. She has had four careers: violinist, cognitive scientist, medical writer and novelist. Yes, she is related to H. Rider Haggard, the author of She and King Solomon's Mines. (H. Rider Haggard was a younger brother of the author's great-grandfather.) Cynthia Sally Haggard is a member of the Historical Novel Society. You can visit her website at: http://spunstories.com/
We'd love to hear your comments.  Does your day as a writer resemble Cynthia's in any way?