Interview: Barbara Abercrombie, Author of A Year of Writing Dangerously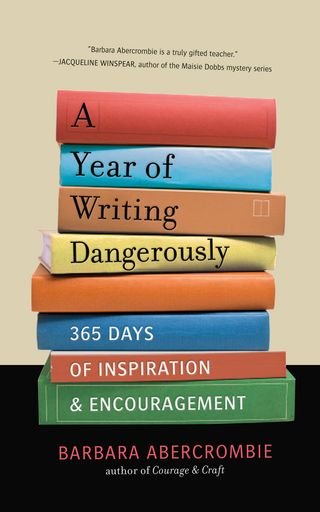 I thought you'd be interested in this book on writing, and so when the publisher contacted me asking if I'd be interested in doing a review or an interview, I leapt at the chance.  The book has an engaging format of one entry per day, with quotes and anecdotes from famous writers, as well as inspiring mini-essays from Abercrombie herself.  It's the perfect daily writing companion.  And now, after some background information, the interview:
Barbara Abercrombie teaches in the writing program at UCLA Extension. The author of novels, children's books, and many essays and articles in national publications, her latest books are Courage & Craft and Cherished: 21 Writers on Animals They Have Loved & Lost. A Year of Writing Dangerously is her fourteenth book. She lives in Santa Monica, CA with her husband and rescue dog, Nelson. Visit her online at her blog, and at her website.
What inspired you to write this book?
The title came to me first and for a while I didn't know what to do with it. I'd already written two books about creative writing and felt I didn't have anything more to say on the subject, but I couldn't let go of the title. For a while I thought maybe I'd write it month by month, twelve sections, but a writer friend said, "No, it has to be day by day. That's the kind of book I need!" The idea of a book to read daily for comfort and inspiration and company suddenly seemed very appealing to me and unlike anything I'd written before.
Why writing "dangerously"?
Because I think there's always a sense of risk when you write – fear that maybe someone will deny your version of things, or that they'll get mad and disown you, or that maybe you'll make a fool of yourself and expose too much or too little. One of my favorite quotes on the subject is by Terry Tempest Williams who said: "I write to discover. I write to uncover. I write to meet my ghosts…I write because it is dangerous, a bloody risk, like love, to form the words." And that's what it feels like sometimes, a bloody risk to form the words.
Why a year?
Because if you want to write a novel or autobiography or memoir you'll need at least a year of focused work to get from the idea in your head to the reality of a first draft. Or if you want to write short pieces a year could get you from dreaming about being a writer to actually completing and marketing one or more personal essays or short stories. I think a year is a manageable amount of time for a writer – long enough to get serious work done, yet short enough to give yourself a realistic deadline.
How does your book differ from other books on creative writing?
There are 365 entries of anecdotes and quotes that offer inspiration and also commiseration from a lot of famous and successful writers who go through the same struggles all of us have getting our work done. I've always found it encouraging to read about the problems of writers I admire. It makes me feel like I'm in good company. While the book does gives you some advice about the nuts and bolts of writing and getting published, as well as weekly writing prompts, it's more of a day book – a book to keep on your desk to dip into for a daily dose of encouragement and some company. To my knowledge there isn't any other book out there quite like it.
Thanks, Barbara!  Now what about you?  Do you write dangerously?  How do you define it?