The Writer's Guide to Happiness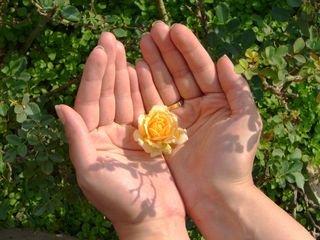 What does it take for you, the writer, to be happy?
This is a question much on my mind lately.  What does it take for me to be happy?
Does having my novel about to be published make me happy? Yes, very.
Does not having time to work on my next novel as I finish a big editing job make me happy?  No, not at all.
Would I sacrifice the editing job in order to have time to write?
Now that's a thorny question, because its the editing job that is paying the bills this month.  Ah, thorny questions.  Don't we love them? Yet in the process of pondering and answering these questions, I've come to some conclusions about what makes me happy as a writer, which I offer below.
But before we go there, let me remind you of one thing: the Dalai Lama himself says that the purpose of life is to be happy.  Ergo, the goal of being a happy writer is an important spiritual motivation.  So quit feeling guilty about it and see if you agree with what it takes to make a writer happy:
Process.  Or, to put it another way, writing.  Being involved in the actual process of writing is the single most important thing to make a writer happy.  Obvious, right? I know, I know.  But sometimes we get so engrossed in the peripheal stuff that we forget this.  If you need some help writing regularly, I've got seven practices that will help.
Balance.  Sitting at the computer and writing all day makes Charlotte a dull girl.  And a broke one.   I tell myself I'd love nothing better than to write all day, but when the opportunity presents itself, I procrastinate.  I need variety–a little of this, a little of that.  Working on a huge editing project makes me long for my novel writing.  And vice versa.  It's all about the balance.  There's also the idea that writers need something to write about–as in a life well lived.  You've got to do a bit of both, with the trick being not too much of any one thing.
Support. The writer's life can be a lonely one.  Something that can help it not be quite so lonely is finding a community of like-minded writers.  I wrote about this topic last week, in a post you can read about here.  Never underestimate the happiness that connecting with other writers can bring.
Joy.  What brings you joy?  And why do I ask?  Because joy feeds writing.  For too long we've believed the opposite, that only angst-ridden writers produced deep work.  It's time to put that outdated paradigm to rest.  Joy is what gets my creative juices flowing. And having my creative juices flow makes me happy.  So what brings you joy?  Watching the sunrise through the trees? Taking your dog for a walk? Spending time with your family? Swimming in the ocean?  Only you know.  And only you can make sure you spend time in doing what's joyful for you.
Rest. A rested writer is a happy writer.  An unrested writer is a cranky, anxiety-filled disaster waiting to happen.  Don't buy into the old, stupid paradigm of the over-the-top writer staying up all night only to crash for days after.  Rest–eight hours of sleep at the least–fuels a consistent writing practice.  And that will make you happy.
So, did I get it right?  What would you add or subtract?  What makes you a happy writer?
**The one thing that makes me happier than anything is writing novels.  My Get Your Novel Written Now class starts next week, join me?  Read more about it here.
Photo by Hamed Saber