Guest Post: Creative Fuel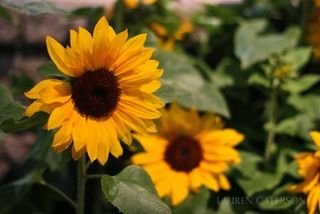 And the winner is: Julie Schwartz!  Congratulations, Julie, I've sent your contact info to Karen and she'll be in touch with you soon.  (By the way I used this random name selector to choose.)
Please join me in welcoming my special guest post contributor, Karen Caterson, today.   Readers of this blog know that Karen and I have been cyber-buddies for a long time.  She did a wonderful interview with Emma Jean and she and I have taught a class together.  Read to end of this post to learn more about a very special give-away Karen has arranged for readers of this blog!
Creative Fuel
I was born creative.
All my life I've shaped
fabrics and fibers into clothes for stuffed animals, dolls, people, performers
(wait! performers are people) – messed with color in textiles, glass,
language (that's what writing is, right? playing with the colors of language) –
imagined other worlds (and others' worlds – that's what you do as a listener, a
reader, or a therapist, right?).
But despite all those years
of creative play I only recently noticed the BIG connection between my creative
output and my self-care practices.
(This may have something to
do with the fact that, until recently, I've shunned consistency in many areas
of my life. I still have a sign in my office that pays homage to this; it
reads: I may be inconsistent, but not all the time.)
Here's the BIG connection I
noticed: Self-care (substitute self-nurturing if you like) fuels my creativity!
Big time!! There's an exponential relationship – have YOU seen this too?
When I realized that this
connection existed I began to add to my self-care practices (I call these
X-treme self-care practices). I now have quite a number of them, from some that
you hear of quite often – using a gratitude journal, yoga and meditating, watching
Groucho Marx movies – to some that are less commonplace: facial acupressure,
tuning the chakras through sound, infrared foot massage, and whistling at the
top of my whistler.
And I keep adding more!
Sometimes it seems like there's not enough day for all my self-nurturing.
While it might seem
counterintuitive to take time away from creating in order to boost your
creativity, it works!
Self-care practices connect
us with our bodies and the physical world – get us out of our heads (where many
creatives spend a lot of time) – and re-energize us. Which results in more
creativity. 
When my creative work is
supported by self-care my work is more focused, I'm less stressed, more
inspired, and more energized.
And conversely, when I put
off self-nourishing until after creating (or forget it altogether) I become
scattered and less productive (my daughter insists that I add cranky to the
list, but we know that's not true, right?).
The more we practice
self-care the more we see our creativity flourish!
Fitting in enough
self-nurturing – consistently – isn't always easy, though. In the creative rush
to write or make art it's easy to forget self-care (heck, sometimes we
creatives get so involved with our work that we forget to eat!).
For me the struggle is with
scheduling. (I have a wee problem with rules and structure – see note about
inconsistency above – so much so that I even thwart my own rules!
Sigh!).
But I work with that
struggle, and keep looking for ways to incorporate self-care into my life, because
I've seen the difference it makes.
What fuels YOUR creativity?
Please comment on this wonderful post from Karen! When you do, you'll be entered into a giveaway to receive her fabulous new release, the Square-Peg Celebration: Stories of Acceptance & Grace package (MP3 and PDF), which you can read more about here.
I'll draw a name from those who comment on Wednesday, June 5th, one week from today!
And here, in her own words, is Karen's bio:
Hi, I'm Karen Caterson, aka Square-Peg Karen – I write a lot about celebrating your uniqueness, accepting yourSELF and X-treme self-care practices. Visit me at Square-Peg People (http://squarepegpeople.com) and let's get acquainted.
Photo by Lauren Caterson, Karen's talented daughter.