The Benefits of Writing Crap (A Reminder)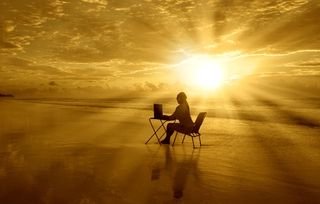 Last weekend, I was at my desk.
I had just started a new chapter.  (I'm almost to the halfway point in my WIP, so I'm well into the dreaded muddle of the middle.)  And I was throwing horrible combinations of words at the page.   Really, when I say horrible, I mean horrible.
Feeling a little, um, less than happy with my work, I took a break to check email.  And, wouldn't you know it, there was a message from some publisher or another trumpeting an author's "masterful literary debut."  Which made my shoulders sag and my chin drop to my chest.
Because of course, I immediately started comparing myself.  And what I was writing was not masterful, in any way, shape or form, as we used to say.  I imagined the process of the author of this masterful debut.  No doubt, she wrote beside a window, looking out at the sea, with gentle ocean breezes ruffling her hair.  Which was styled, unlike mine, since I still hadn't showered.  And her desk was clean, unlike mine, the surface of which hasn't seen daylight in months.  And most especially, no doubt every word this author wrote was a gem.
Unlike my horrible combinations of words.
I went to that imaginary scene of this masterful debut author writing despite the fact that I know better.  (Exhibit A: the gazillion articles I've written about this over the years on this blog) I know that this author went through a process, just like me, and that she no doubt despaired over her Shitty First Drafts (not to mention subsequent drafts) as well.  
But my mind went there anyway. (For some reason, I'm particularly prone to thinking this about female English novelists.  Maybe because they always seem so accomplished and efficient? And also, Isabel Allende, whose fingertips seem to produce incredible novels like clockwork.)
And so I was forced to remind myself that writing is a process.  And that process does not start with perfectly formed sentences, despite what my runaway imagination was telling me.  And so, I reminded myself:
–When writing a first draft, you're laying down the spine of the story.   Because you most likely do not yet fully understand the spine of the story, your scenes will not spring, full formed onto the page. Rather, they will of necessity be somewhat sketchy.
–Not only are you figuring out the spine of the story, you're still deciphering the story itself.  Yeah, so you think you know how its going to go–and then that new character walks on.  Or your heroine says something that takes the chapter in a whole new direction.  This is why we write first drafts–to let the story have a life of its own.
—You'll figure out things about the story only when you get some distance from it.  For instance, last night I met with my writer's group and reviewed an earlier chapter from my WIP.  And realized that there is a thematic element I need to weave in through subsequent chapters.  This is what God made second drafts for.
–A first draft gives you something to go on in the future.  Because you will rewrite this draft.  And you'll rewrite it again after the first time. 
So, don't rush the process.  (And I'm talking to myself as much as to you.)  At the same time, I think its important to acknowledge that writing "masterful literary debuts" does not have to take years.  (For instance, the above-mentioned Isabel Allende started her latest book, Ripper in January of 2012 and it is available now.  Given the glacial pace that legacy publishing moves at, she wrote that baby–nearly 500 pages of it–fast.)
And remember: writing crap is good.  Writing crap is glorious.  Writing crap will get you where you want to be.
So….what about you?  Do you have to remind yourself to write crap?  To let the words be awful on the page?  Or are you one of those rare breeds who polishes every word of the draft before you move on?
As a reminder, my short story Blue Sky is up on Amazon.  (I'm trying to get to making a new book page, on this blog, stay tuned for that one of these days.) It's a quick read, and just 99 cents!