Links Round-Up: Nanowrimo
While I am out, I'm posting link round-ups of various sorts.  I looked at the calendar and realized, Nanowrimo is a little over a month away! (If you don't know what Nanowrimo is, you probably won't be interested in these links.  But for the record, it is National Novel Writing Month, wherein you write at 50,000 word novel in a month.)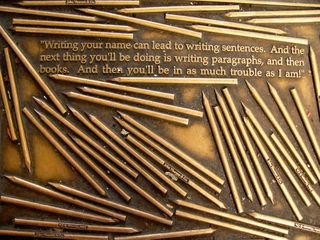 Here are some articles I'm published on the topic through the years:
Top 5 Ways to Prepare for Nanowrimo
Writing Beginnings: Nanowrimo, Day One, A Story About Sometimes
Writing Inspiration, Whether You Are Nanowrimo-ing Or Not
There's a Reason Nanowrimo is Held in November
8 Essential Tools for Book Writing (Just in Time for Nanowrimo)
And hey, if you feel like you'd like a little support for the novel writing, and some help prepping for Nanowrimo, consider my Get Your Novel Written Now Class, coming up in October.
Image by ktylerconk.  It's a quote from Henry David Thoreau, on a plaque at the New York City public library.