Rain and Writing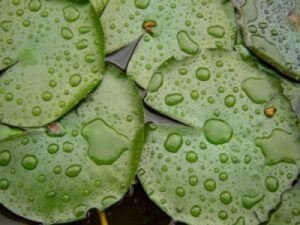 We woke to rain in Portland this morning and I cheered. I know, I know, but as a native Oregonian, I love the rain. Plus it had been humid (by our standards) for awhile and it felt like we needed a good storm to clear it out.  And that meant I didn't have to water the garden, and that the gamble I took on not watering my son's yard (we're caring for his house while they are in Hawaii)  yesterday paid off.
The sky is already brightening here, which means I probably get to go to my grandsons' swim appointment after all. But today's rain reminded me of my favorite writing and rain quote ever, by Tom Robbins:
"People ask me who I write for, I tell them I write for the rain."
The funny thing is, this quote exists only in memory as a part of an article about Robbins in Esquire.  Despite wasting tons of time exhaustive searches looking for the quote I've never been able to actually find it. In honor of the rain this morning, I looked for it again and guess what came up?  A couple of my old (2011) posts.  The one that mentions the quote doesn't have much of value in it, but another one did, including some gems from Annie Proulx (that link goes to a great interview with her) and Chris Guillebeau.
So, in lieu of a Five on Friday post, I give you this link.
(And, in a lovely bit of synchronicity, when I looked up a link on Robbins, it turns out that today is his birthday. Boo-yah! And happy birthday, Tom.)