The Wordstrumpet Last-Minute Guide to Nanowrimo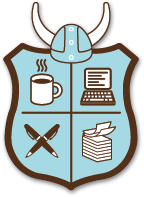 Nanowrimo (National Novel Writing Month) starts next Tuesday, November 1st. Are you ready? I did it a few years ago, resulting in an early draft of my novel, Emma Jean's Bad Behavior.  And I'm planning to do it again this year to knock out a draft of a romance novel I have in mind. I think I have a pretty good plan for completing it, she said, modestly, which I shall share here.
First of all, loosely, here are the rules: you can prep as much as you want before November 1st, but you can't actually write anything until that date.  Write 50,000 words and you win! Prizes include a button for your website and a certificate (at least that's what they were last time I checked). You can sign up on the Nanowrimo website to get support and encouragement. If you're a social type, many cities hold Nanowrimo write-ins that you can participate in.
All this is great, but the most important thing about Nanowrimo is that it encourages you to fling words at the page with abandon. You kinda have to if you're going to meet that 50,000 word goal.  And please, please, please remember that THERE WILL BE MUCH REVISING NEEDED after November 30 has come and gone.  But you know that, right? (Its surprising how many people don't.)
But, here's the deal, guys, you only have a few days to prepare.  Like, three. But its not too late! You can totally get yourself in the right headspace to do this in three days. (Trust me, the right headspace is half the battle.)  And, I do highly recommend it.  Nanowrimo is a lot of fun, it  totally gets you over any fears you have about writing a novel, and it helps you learn how to silence your inner critic.
So here goes, the Wordstrumpet Last-Minute Guide to Nanowrimo:
Come up with an idea. Maybe you already have one? Maybe you've had an idea for a novel for forever? This is the time to do it.  Here's a little secret about writing a novel: you can use any idea you want. Really. Its all about how you put it together on the page. Just remember that all novels that work are based on conflict. Somebody (your main character) wants something, but forces array to prevent him from getting it.
Do some prep work. This doesn't need to be extensive, but it will help if you know your settings (main character's home and work place, plus her hang-out at a minimum),and some things about your most important  characters (email me if you need a character dossier for this).
Create a loose outline for your plot. (Quit cringing, pantsers.)  This can be as simple as a list of scenes or you can make it more complicated if your brain works that way. (Mine does not.)
Write notes. Ponder things like theme, motivation, the above-mentioned conflict and write your thoughts down. These will likely change as you progress through the pages, but it is good to have some initial thoughts. I like to create a little binder or use a spiral for this, so I've got everything together in one place.
Figure out a schedule.  I like to get up early and write, so that my most important thing is finished first. I set a goal of 2,000 words a day. If I stuck to it exactly, I'd end up with 60,000 words after the 30 days of November. But life does intervene. There's Thanksgiving, for instance. And that's a time suck if there ever was one.  With my 2K a day goal, I'm good if I lose a couple days to emergency grandchild watching or whatever.
Monitor your habits. This is a good time to forego that nightly class of wine. (Brahahahaha. Like that's going to happen.) Make sure you eat well and get enough exercise and sleep.
Write like the wind.  Make freaking forward progress! Your goal is to hit 50K words, not obsess over every word. If you're going to win this, you're going to have to write fast.  The time for rewriting is when you are finished
Be aware you might not finish. Winning Nanowrimo means completing 50,000 words on one single novel project in a month. You might choose, from the start, to write more of a novella, or know that you're not going to be quite finished at 50K. And that's okay–because you'll have most of it done.
Have fun. We don't do this to torture ourselves. Do we?
So, are you going to do it? C'mon, let's! Leave a comment and let's chat about it.