Writing: Exhausting or Energizing?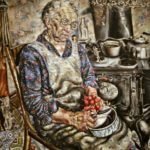 A while ago, one of my wonderful clients mentioned that after a good writing session, she felt exhausted. Boy, could I identify with that, because I often have the same experience.  After a particularly intense stint at the computer, I sometimes feel like doing nothing more than crawling away and collapsing in a quivering heap.
And yet, I'm also energized. And excited. And in love with the world. It is a strange mixture of exhaustion and joy. Years ago one of my  MFA mentors and I marveled at how it was possible to get a blood sugar drop (an experience usually reserved for being physically active) from an avid writing session. She related that a neurosurgeon friend of hers had told her that under intense concentration, the brain can use up as many calories as one's body does when exercising.  I've since had other people vigorously refute this, but I prefer to believe it–because I've experienced it. (Okay, here's an article that disagrees with me, but it is still worth reading.)
Here's the deal, though. This weird state is one of my favorite states to be in. And that is because I feel like I've given everything I have to the page, let the words flow out of me so intensely that I'm totally spent.  It makes me feel like I am fulfilling my purpose as a writer.
Process, Not Product
And the key to achieving this state is…yeah, its pretty obvious, isn't it? The key is focus.  I would take that even a step farther and submit that it is a certain kind of focus.  And that is the kind of focus wherein one is so caught up in the process that she is not worried about the product.
Not worried about what her family will think when her memoir is released.  Or how her agent will react after reading the manuscript. What the spouse will say. What the children will think. What the high-school friends from long-ago will think. How the first-grade teacher, long in the grave, will judge. I swear we let all these things and more stop us from doing what we really want: which is deeply engaging with the writing at hand.
The Inner Critic
And sometimes they congeal into one big, bad lump of an inner critic. Your worst enemy. The one who keeps you from writing. The one you listen to scream at you. The one you let stop you from all your dreams of creative freedom. Guess what, people? You've got three choices here: you can carry on as usual, letting he/she/it stop you, or you can tell it to shut the f$%# up and ignore it, or you can befriend it.  Either of the latter two will work.  Just don't get stuck in the first option. Please. (I've written numerous times about dealing with this imp. You can read more here and here.)
Balance
Besides acknowledging and slaying dealing with your inner critic, I think it's important to realize that this kind of exhausting and energizing state is not one we are going to be in all the time. I used to get into it more often when I was not a professional writer. Back when I was writing for fun, it was far easier to just have at it without worry about the end result. That is not quite so easy to do anymore when I know that people will be reading my blog, newsletter, or novels. This is one reason I write in my journal every more–crap that means nothing to anybody but me and will never be seen by anybody but me. It reminds me that this is my goal, always–to write freely and openly without worry about how the words will be judged.  And thus it is important to seek a balance between this wonderful free writing and the time when you are more slowly considering the word you are putting on the page. (And for the love of God, don't confuse the exhilaration you feel after completing a first draft with the idea that means it is perfect. I see this happen far too often. Just because it was fun to write doesn't mean it isn't in need of more work.)
A Certain Kind of Exhaustion
But, oh how I love it when the words are flowing freely and I'm a mere shadow of my former self at the end of a writing session!  This kind of exhaustion is what we all aim for: the knowledge that we've given one of the most important things to us all we have in the moment. That is all we can ask for.
How does a good writing session make you feel?
Hey want to chat about your writing? Get some perspective? Sign up for one of my connection calls!