Five on Friday, It's March!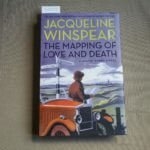 What I'm Reading: The Mapping of Love and Death, one of many novels in the Maisie Dobbs historical mystery series by Jacqueline Winspear. I love this book. It's my kind of mystery–one where the sleuth's story is almost as important as the mystery she is solving.  I'm planning to go back and start at the beginning of the series. These books are set in London between the two world wars, and Maisie is a plucky, deep heroine.
I just nabbed The Art of Character by David Corbett at the library (after a long wait) and so far I love it.
What I'm Loving: The way I rearranged my office so that I have a place to sit other than my computer desk. It's a nice spot for journal writing, reading manuscripts, all the non-computer work that I love to do.
What I'm Watching: Riverdale. Okay, okay, I only watched a little bit of the first episode when I found it randomly the other night, but it looks like quite the great show and I plan to return to it. Because, I loved the Archie and Veronica comics eons ago.  And who among us remembers Katy Keene? That name just popped into my head.  Oh man, I loved her comic books. When I was a kid, I wanted to be either a writer or a fashion designer. And yeah, admitting the latter goal takes some guts, seeing as how I slink around in leggings and oversized tops most of the time these days. And sometimes I don't get out of my jammies until…well, never mind. Clearly the goal to be a writer overtook the idea of becoming a fashion designer.
Oh, but we are going to try very, very hard to go see La La Land this weekend. Because, the last five minutes of the Oscars.
What I'm Reaffirming: The crazy conundrum that taking time makes time.  I get more done if I write in my journal in the morning, and I speed through my to-do list if I take time to meditate, read, and/or knit or stitch. It's crazy, but its true.
What I'm Looking Forward To: A two-day writing retreat at the Oregon coast in mid-March.  Concentrated time to work on fiction, hooray!