A Day in the Life of a Writing Workshop in France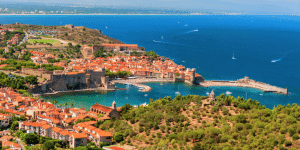 You wake up in a decently comfortable bed in room in an old, old house. And then you remember: I'm in France! Yes, you are. You took the train down from Paris the day before and arrived here just in time to wander the town and then meet the other workshop attendees for wine and cheese.
Because, yes, you are here for a writing workshop. Here to write! In France. How romantic that sounds. You dreamed about it for so long, and now you are here. And the reality is way more romantic and far better than you'd ever dreamed.  You jump out of bed because you want to explore the town a bit more before the workshop starts.
In the updated but ancient old kitchen one of your housemates has made a pot of coffee. And wonder, of wonders, another writer has gone to the corner patisserie and come back with chocolate croissants. As you chew, you ponder, which is better–the French wine or the French croissants? Luckily, you'll have lots of days to decide the answer to that as the week stretches out ahead of you.  Seven more days!
Wandering a narrow cobblestone street you admire the doors and shutters painted in bright hues of yellow and turquoise and lavender, many adorned with pots of colorful flowers. Your walk ends at a row of shops, and right across the street is the water. The Mediterranean is especially blue today. Boats bob at a marina, and farther out, you spy commandoes from the fort on the hill executing training exercises in the water. Your stroll into town takes you along a path next to the water that skirts a huge stone fort. Vendors are setting up paintings and musicians are tuning their instruments.  Farther along, the town is coming to life, with stores opening for the day and cafes bustling with patrons eating breakfast.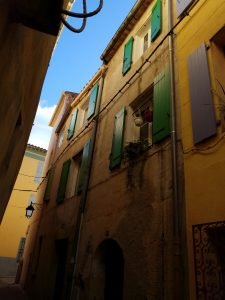 Back at the house, you shower quickly and sit around a huge table with all the other workshop attendees and the leaders. You're a bit nervous about this, as its your first writing workshop, but it is a really fun morning! There's lots of laughter, good talk and instruction about writing, and some interesting writing exercises. You leave with a brief assignment you're excited about doing.
But first–lunch. All that writing talk made you hungry. You head to a cafe by the water with a group from the workshop and eat the best fish you've ever had, followed by dessert, of course. It is Creme de Catalan, a specialty of this region and it is delicious. A cup of expresso will help you keep you alert to do your writing. So will another walk. This time you walk up a path behind the town that leads through well-tended vineyards about to be harvested. The views of the sea are spectacular.
At home, you sneak in a petite sieste, then attack your assignment with vigor, finding a shady spot outside in which to write. The afternoon sails by as you focus on your work, and before you know it, it is time for Happy Hour. The whole group meets for local wine, cheese, bread, and pate, along with scrumptious tomatoes and olives.  Dinner is served outside at a long table and the talk is about what everybody did that day, and of course, writing.
There's time for one last stroll to the water to see the lights twinkling in the harbor and then–happily to bed, to read, to write in your journal, and sleep. Tomorrow is another happy day in France.
Sound good? This is possible for you to experience, too! I teach writing workshops in France every September. Want to come with us? We still have a couple slots open for 2018.  Visit our Let's Go Write website here to learn more. Or email me at charlotte@charlotterainsdixon.com for more info.