Depending on Your Point of View (A Love Letter)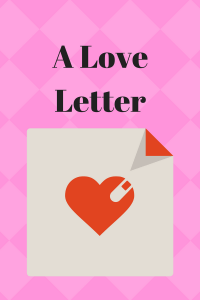 You live for adventure and global travel. Or you love to stay home by the cozy fire. You can't stay still—you have to be doing something. Or everything you love to do involves sitting. You love gardening. Or you hate getting your hands dirty. You agree with everything our president says, or you take to the streets to protest him. You love kale. Or hate all vegetables. You love summer. Or you hate being hot.
I could go on, but I'll spare you.
My point is this: there are many points of view in this big, wide, wonderful world of ours (and now more than ever, it seems).
And, as I like to remind you incessantly often, as in life, so in writing. (Or vice-versa.)
We writers talk a lot about point of view (or viewpoint, if you prefer) and it has been much on my mind recently because of a book I'm reading. The book is Women in Sunlight, by Frances Mayes, and man oh man does she do strange things with viewpoint.
The story has a lot of characters, but the main ones are Kit, a woman who lives in a small town in Italy, and Julia, Camille, and Susan, all of whom have had recent upsets in their lives. They decide to move for a year to the same town where Kit lives.
Kit's viewpoint is in first person and all the rest in third. But Mayes head-hops between them. Constantly. All the time. Sometimes it is impossible to tell which character is narrating.  At one point, Kit related something that happened to one of the other characters when she wasn't there. It is massively confusing.
Despite all this, I'm absorbed in the book and I am almost finished with it. (I will confess to skimming a lot of her excessive descriptions. But if you love Italy cuisine and travelogue, you'll likely read every word.) I decided to check the Amazon reviews to see if others had similar reactions to mine. And, yup, readers range from lukewarm to ecstatic about it. But one thing that struck me was how many mentioned their confusion over who was speaking when. (Doesn't help that all the characters sound alike, and talk in long speeches.) Some had a hard time keeping the characters straight.
And, here's the deal, people: when it comes to viewpoint, your average reader doesn't know if you're doing a point of view violation. But they do know when they get confused. And a confused reader is a bored reader. And a bored reader is a reader who puts the book down.
So, a couple of simple viewpoint reminders:
–Omniscient is really hard to pull off. Don't do it. Just don't.
–To maintain viewpoint sanctity, just remember to be in your character's head. What she can see and hear and touch and smell you can report. Nothing else!
–It doesn't matter what viewpoint you choose. Some people love first, some hate it. Some like single viewpoints, others prefer multiple. Doesn't matter! Just stay consistent. And stay in whatever character's head you've chosen at the moment you are writing.
Have you ever read a book whose viewpoint turned you off? Hit reply and tell me. Also—might you need help with viewpoint? Need a supportive coach to help you with your writing? Hit me up. I've got room for one client this summer.
This post contains affiliate links.