A Love Letter About the Sneakiness of Discouragement
I tend to get all excited about things and plunge in.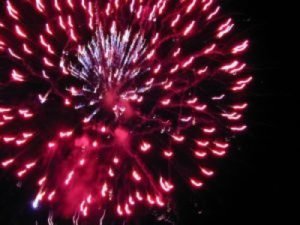 Like, say, an idea for a new book. Or an article or blog post. Or a whole new business. Or a knitted item.
I can see it all from start to finish. The end result is enshrined in my mind, surrounded with golden butterflies, silver hearts and rainbows. Happy music is playing. Unicorns prancing. (At least that's what it feels like.)
And so, I plunge in. I'm a good, hard worker when I'm excited about something.
But I'm also very, very fickle. And easily bored. (Squirrel!)
So, very, very often, I get derailed.
It's embarrassing to admit this, but if the rainbows and butterflies and unicorns take their time to appear, I ease off. The slow build is not for me.
And here's the terrible part. I'm slacking off because I'm discouraged, and most of the time I don't even know that. Because discouragement is a terrible, sneaky, beast.
I just realized this in relationship to my new habit of posting on Medium. There's many reasons I prefer writing blog posts there as opposed to my blog that I've written for year. Chief among them is that the Medium interface is so easy and fun to use. It truly does remind me of blogging in the old days, when it was exciting and new.
And there's a much bigger built-in audience.
There's actual engagement again.
And you can make money.
This last has blinded me a little, I'll admit. I read stories of people making a full-time income from Medium! Writers who publish one story and earn $543! And so on and so forth. It reminds me, again, of the glory days of blogging, when everybody and their uncle was pitching products that would tell you how to create blogging riches. (That ship has sailed big time.)
When my own earnings don't quite hit that level overnight, when my view numbers aren't stratospheric, when claps are low, discouragement kicks in and my enthusiasm wanes.
But, here's the deal: I don't even realize what's happening. I tell myself I have more important things to do than write another post for Medium. I find myself ignoring the whole site, when usually I'm reading tons of articles on there. Or I just wander off and forget about it.
Because discouragement is a sneaky, sneaky beast.
But the good news is that it's a beast that can be slayed.
It takes an act of huge will to realize what's going on and get myself back on track. And writing blog posts for Medium isn't the only arena where this happens. It happens with my novel, and, oh, just about any long-term project of any kind (knitting, say) I ever embark on.
What does that act of will involve? Observation. Becoming aware enough to ask myself, why haven't I written a post for awhile? Where am I in the novel?
The funny thing is that once I realize what's going on and pull myself back onboard, my enthusiasm reaches high peaks again. Until the next round of discouragement.
But at least I know how to kill it.
Things of Note
Articles
Here are my latest articles from Medium. (These are friend links, so you should be able to read them even if you're not a paying customer.) If you read one and enjoy it, please do clap for it—clapping is one way that Medium's algorithms work to pay me.
Increase Your Productivity by Following Your Natural Flow
Currently Reading
The Silent Patient, by Alex Michaelides  I waited a long time to get this one from the library. So far, so good. Though the beginning is surprisingly slow for a book that has been hyped as the thriller of the year.
And I'm still working on both of the titles below. Neither is a fast read so they make great books to have on the night table, to be picked up once every few nights.
Sea People: The Puzzle of Polynesia, by Christina Thompson. https://amzn.to/2E2qTy3 This book is utterly fascinating to me. Many thousands of miles of vast, open ocean lies between many of the Polynesian islands, and yet they developed similar cultures. Highly recommended.
Lost and Wanted by Nell Freudenberger https://amzn.to/2VE4r8J Still reading this one. It is not a quick read. I put it down for a few nights and read something else, then go back to it. I really love the way she handles language and scene.
Ko-Fi
Here's my ko-fi, where you can buy me a cup of coffee or any kind of drink you'd like (so far it has been running toward wine). Thank you in advance for the treat!
Happenings
The Writer's Craft Telesummit—Free and online! Kevin Johns, the host, has interviewed a whole slew of writers on various topics. My day is May 29th, and I'm talking about why you should prep for the novel, whether you're a plotter or a pantser.
The Story Writer's Path—I'm teaching at the Sitka center on the Oregon coast this June. This is a beautiful location conducive to learning and writing, and it is incredibly inexpensive. We'll go through all the things you need to do to prep to write a novel. You'll leave ready to write—and that's the only part of the process I can't help you with! Click here for more info.
France 2019—Come to south of France with me! Find all the details here. Limited space available and we've had another sign-up this week. I'd love to see you there!
Facebook Group
And of course, don't forget to join the Facebook group if you haven't already. I post lots of interesting links and fun things related to writing.
This post contains affiliate links.