And Now For Something Completely Different: Igor, the Blind Pug

Due to popular demand, I'm posting photos of Igor, the blind pug.  The photo to the right is a bit blurry because he is in the process of doing a high five, which he does because he thinks he is going to get food (note to new pug owners: pugs will do anything for food).   Igor learned how to do this all by himself–I'm not kidding–years ago.   Assorted family and friends were sitting around the dinner table with the pug on the floor next to me (he knows who the sucker who will feed him is) and I looked down at him and said, "Give me five, Igor," and he did.  I'm not kidding, that really happened.  It is his one and only trick, and it is a good one.
Igor started going blind a couple of years ago, due to cataracts.  Pugs do tend toward eye problems because their eyes are so bulgy.  You can get cataract surgery for dogs, but he is not the best candidate for it, as he has had breathing problems in the past.  One New Year's Eve day he had to spend an entire day in the oxygen room at Dove Lewis, the emergency hospital here in town. 
Our vet calls him the King of Pugs because he is, well, huge.  He used to weigh nearly 50 pounds but now he's down to his fighting weight of 45.  Its not fat, its muscle!  (The average weight for a male pug is about half that.)  But his father was very big, much as he is.   Here are a couple other photos of him: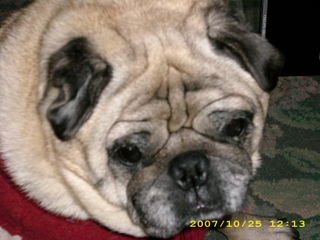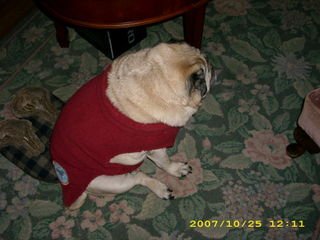 He gets around amazingly well in his blindness, he uses his head to bump into things and tell where he is.  Also uses his paw to reach out and feel the edge of a step he knows is there, such as when he is attempting to get off the back deck.
All I can say is, if you have ever thought about getting a pug–do it.  They are the best dogs in the world, comical, sweet, endearing, great companions.  The best dog a writer could possibly ask for.