I Find Myself Once Again in Portland
Having left LA last Friday and flown up the coast, I am adjusting to the relative cold up here (oh who am I kidding, forget the relative part it is flippin' freezing, 50 degrees colder than it was when I left California). 
But this morning was one of those foggy autumn mornings that I love, and when I stepped out back to make sure Igor, the blind pug, got himself off the deck okay I saw one of the 50 spider webs that ring our house covered in dew.   So I grabbed my cell phone and took a photo.  It is not the best of photos but I am happy with it anyway.   Pretty  awesome spider web, eh?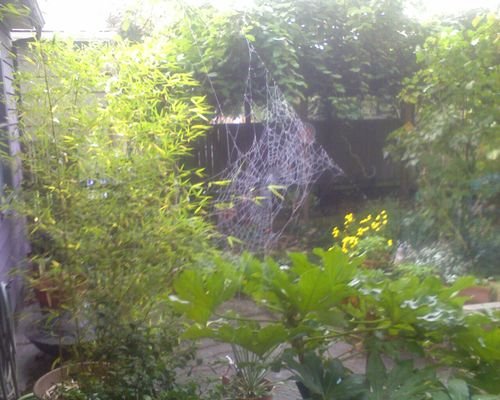 I'll be returning to southern California next month, to keep Robert Hoyk company while his wife is out of town, and also to meet with clients.  I love my clients.  They all live in LA, every single blessed one of them.  And that means I get to return to LA often.  Here are some of the recent reasons I have enjoyed LA:
An Empowered Woman.  An amazing networking group–and more.  Let me tell you, I've always hated and resisted networking groups but I love attending events put on by An Empowered Woman because they are fun. Good shopping, interesting speakers, a fabulous collection of women, what could be better? Desiree Doubroux, the founder, is a force of nature.  She's amazing, and so is her group.
One of the event was held at the Luxe Hotel in Bel Air.  I think that's where it was, I still get confused in LA.  It is on Sunset Boulevard, right off the 405, okay?  That's as specific as I can get. And wherever it was, I loved it.  That is how I think I should live all the time: men fluttering around as I arrive, lovely outdoor seating areas, a gorgeous lobby.
As always, staying with my wonderful friend, Suzanne, who is an healer extraordinaire.   She celebrated her birthday while I was there and besides eating at Maria's Kitchen (amazing Italian food and the best staff in the business–thank you, Joshua, we love you) we also drove up to the Mt. Wilson Observatory.  Fabulous views of the entire LA area, even though the valleys were all covered in smoke from the fires.  Fascinating place–the observatory was closed but it is quite an installation, the peak is covered with transmission towers and the like.  Not exactly sure what all goes on up there, but I'd like to find out.  I think.  The full moon rose on the drive back down the mountain and the sun set brilliantly red from the fires on the other side.  Amazing.
Another evening we drove up to Chantry Flat, then hiked down into Santa Anita Canyon.  Walking back up was a bitch, but it was worth it because at the bottom of the canyon there are cabins.  They are only accessible by foot and to get supplies in you have the packed in on burros.  Is that cool or what?  We only saw  a couple of them, but apparently there are many more still in existence and a whole camp at the bottom of the canyon.  You can see photos of it all here.
And besides all the fun, there was work, too, such as meeting with prospective clients, who shall remain nameless, and meeting with fellow writers. If you are in the Pasadena or Alta Dena area and you need help with marketing or marketing writing, you should call Don Simkovich.  He'll be happy to help you out, and he'll do a great job for you. 
I also spent a great deal of time critiquing the novel of my screenwriting friend Brian, who despite my best efforts does not yet have a blog or website that I can link you to.  And I spent time working on packets for the Loft.   I even got some work done on my novel while I was there.