Happy Halloween
I'm in the process of cleaning and cooking for a Halloween party we're having tonight.  Somehow, my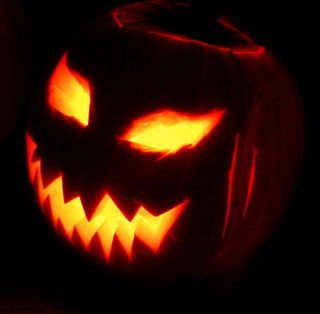 annual chili dinner for one or two friends has turned into a last-minute shindig.  Alas, this means not a lot of time to write today.  However, I did rise early to work on Emma Jean,inspired by comments from my critique group last night. And I've made huge progress on my ghostwriting projects this week.  So you know what that means?  It is time to party!
Meanwhile, I've been racking my brain for a clever Halloween post.   Or a trick or a treat. I heard that Bruce Springsteen has a free download for Halloween on his website, but that seems a bit off-topic.  A couple of internet marketers have offered me free Ebooks, but they've turned out to be not worth the time it takes to download them.  And since I'm busy cleaning and cooking, I don't have a lot of time to figure anything else.
Ah, but light has dawned as I am writing this.  Seeing as how today is Halloween, it is a Friday, and tomorrow is November 1st, when many of you are starting Nanowrimo, how about we all give ourselves a huge pat on the back and take the day off?  We could start a movement to have Halloween be National Take the Day Off From Writing Day. 
Are you with me on this one?
I suppose you have to be a crazed workaholic like me in order to really get behind it, or at least a person who feels guilty if they don't write every day.    I know there are many of you out there.  So, c'mon, stand up and be counted.  We can make this happen.
The thought occurs to me that by writing this post I am, um, writing.  So I've got to knock it off.  See you all tomorrow, when I expect reports from everyone who has begun Nanowrimo (Kate and CJ, this means you, and I know I'm missing others so stand up and be counted.)
Photo by Toby Ord, licensed under Creative Commons Attribution Share Alike 2.5.  I found it on Wikipedia.