Lessons From a Rock Concert, Part One
Saturday night I went to see the Eagles.  Until then, I had forgotten how much rock concerts inspire me.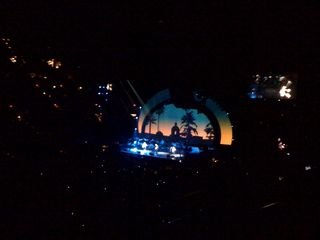 Experiencing a concert is such an all-encompassing event for me, I end up feeling determined to go forth and do my creative work with renewed vigor.
I mean, musicians have to be creative on so many levels.  Not only do they have to worry about writing the music, but then there are lyrics to think about.  And after that they have to strap on the guitar or pick up the drumsticks and stand in front of thousands of people and play their hearts out.
All I have to do is write.  And lord knows, often enough I complain about that.
Two things kept going through my head as I was at the concert:
1.  Oh my God, we're so lucky.  All of us who are creative in any way, shape, or form are just damn lucky. Because we have a hunger to share, and we share it–we shape the world through our creativity.  And there's no better fate than that.
2. Once you have found it, never let it go.  (This is a line from a song in a musical–The King and I?) I've been through periods where I've lost it for awhile.  To be honest, I'm coming out of one now.  Oh, I never lose it completely any more.  I can't, because I earn my living writing so I have to keep at it.  But sometimes I lose it where my personal writing is concerned.
What, you may ask, is it?
The spark.
The germ.
The seed.
The life.
The energy.
The inspiration that grows into a project that keeps you up late or gets you up early in the morning.
The connection you feel when you're working on it, how you transcend who you are and become part of something bigger–the way you do when you're at a concert, or watching a sunset, or gazing into the eyes of someone you love, or writing.
It is all connected.  All we have to do is take it and put it on the page.
I have more thoughts on this, to be posted tomorrow in the form of actual, real live, useful takeaways.  In the meantime, feel free to share what inspires you.