Vow to Poetry
I named this post after a book.  It sat on my bookshelf for years, but I think I finally sold it in one of my fits of purging.  I loved the title of the book, maybe because people don't vow much any more and we probably should, but I never could get into the book.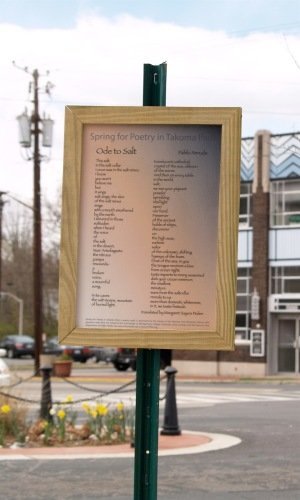 This post is not about books, but it is about poetry.
In walks around my neighborhood of northeast Portland lately, I've been seeing wooden display boxes affixed to a wooden post.  Inside the display box is, generally, a poem, though at times you might also see a photo or a quote. 
I love these boxes and delight when I come upon one. 
Saturday morning, eating breakfast at a new cafe, I happened to read an article in the neighborhood newspaper about the boxes.  I learned that they are called Poetry Posts and are made by a northeast Portland resident. 
I am getting me one for my birthday which is a mere twelve days hence.
I plan to post poetry on a weekly basis, interspersing it with quotes, an occasional math theorem from my son, maybe some flash fiction.  So here's my question to you–what poems, quotes, or small pieces of prose should I include?  (Don't worry, I don't expect you, the wonderful readers of my writing blog, to come up with math theorems.)  The box is big enough to display one 8 1/2 by 11 size piece of paper. 
I can't wait to read your suggestions.  And be sure to check out the link to the Poetry Posts, because they are just too cool.  (And note that they look better than the one in the photo, which is courtesy of takomabibelot on Flickr, taken in Maryland.  I'm all for public displays of poetry, but I still think my Poetry Post is cooler.)