Yet Another Post on Gratitude
In the United States, tomorrow is Thanksgiving day.
News flash, right? Not.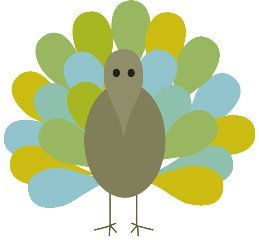 If you're anything like me, and I like to think that you are, your inboxes and online readers are probably clogged with bloggers and marketers telling you all about gratitude and why it's so important.  And even I jumped onto the bandwagon yesterday, with a post on creating energy that included some bits on gratitude.
Because of all this (or maybe despite it all), I've been thinking a lot about gratitude.  And what I think is that sometimes in our very human way, we do gratitude all wrong in a couple of ways:
1. We see gratitude at the booby prize.  Oh lord, I'm so guilty of this.  It's like, if I can't have what I want (and if anybody is listening, a publishing contract for my novel is at the top of my list) then I have to settle for what I've got.  Settling.  Ugh.  What a dull, boring, blah energy there is to that word, at least in the way I've used it.  And who wants to spend time being grateful for anything dull, boring and blah? Not me.
2. We use gratitude in order to get something.  We're told that if we're only grateful for what we have, we'll get more.  If we are grateful for the money we have, more will come to us.  And so on.  And, the thing is, I believe this is true.  But wouldn't it be nice just to be grateful for what we've got for the sheer lovely joy of it?  Which I think is the true intent of most spiritual and religious practices which emphasize gratitude.
And I think that is how to do gratitude right: just do it.  Because you really do probably have more than 99.9% of the rest of the world.  As Anna Griffin, a columnist for my local newspaper put it this morning, "No whining on the yacht."  Cuz must of us are steering pretty good little boats, even with all the terrible problems of our troubled world.
It really is pretty damn wonderful that we still have a holiday that is devoted to the practice of gratitude.  Well, and eating.  But the point is to eat the abundance for which we are grateful.  And so tomorrow, as my extended family gathers around the table to eat our feast, we'll go around the table and take turns saying one thing we're grateful for.  And as I try to think about what one thing I'll say, there's so much I'm grateful for, truly, deeply grateful for, that I can't even begin to narrow it down.
So I'll say this: I'm grateful that I have so many wonderful things in my life that it is difficult to choose just one thing.
And, by the way, my loyal and wonderful blog readers are included in the many wonderful things in my life that I'm grateful for.  What are you grateful for this year?
The awesome raindrop turkey was designed by my the very talented graphic designer, Christine Rains.  Check out her website here.  You'll see why I'm so grateful that she also happens to be my sister.  Plus she's bringing mashed potatoes and hard sauce for dinner tomorrow.