Water the Bamboo
So, forgive me, but every human being who lives in Oregon is caught up in Duck fever at the moment.  In case you've been on retreat in a snow cave, that's because we're playing Auburn in the BCS National Championship game tomorrow night.  Go, Ducks.
This morning, I read yet another story about the Ducks magical 12-0 season, this one featuring the meteoric rise of head coach Chip Kelly.  Read about how he bounds into the practice arena at the crack of dawn every day and cranks up the music.  How he lives and breathes football.  How he hasn't been afraid to execute his unorthodox ideas about offense. I've written about Kelly's philosophy before.  I love reading about Kelly's coaching ideas, because he draws them from a wide range of sources, including the business world.  His dedication is legendary and inspiring.  His most well-known saying, and the one you'll see featured prominently all over Oregon, is win the day.  Its that simple: win the day. 
In other words, concentrate on the task before you.  Take it one day at a time.  Be present and be where you are, period.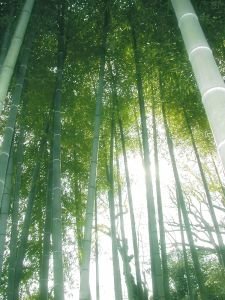 But in an article about the Ducks that ran this Friday, I learned one of Kelly's other aphorisms: water the bamboo.  Apparently, after bamboo is planted, you have to water it regularly and faithfully for three or four years.  Years in which nothing happens.  Until finally, after long and religious watering, a shoot appears above ground.  And then that shoot grows like crazy, often reaching ridiculously heights in just a few weeks.  But the catch is, to achieve that crazy growth, you have to keep at the watering, even when you don't see results, even when you're sick of it, even when you're not sure anything at all is happening.
And that really resonates with me.  Because over the last year, I've been watering and watering and watering the bamboo, waiting for the shoots.   I have faith they'll break through soon.  And stories like this remind me to be patient.  (News flash: there's a website, book, and program on this very topic, called, amazingly enough, water the bamboo.  Check it out here.)
And so, besides the fact that I'm an alum, I'm excited about this Duck team because of the philosophies that lie beneath everything they do.  It's something we can all learn from and emulate.
To read fan notes from the other side, visit my buddy J.D. Frost's blog.  He's a long-time reader and he's the best.  It is so great to be friends with some one from the opposing team.  Because this way if Auburn wins, which I know they won't, I'll at least be happy for someone.
One final note: I'm pleased to read that there will be a moment of silence for the Tucson victims tomorrow night at the BCS game.  I've been glued to CNN and Twitter all weekend, watching the horrible tragedy unfold.  I only hope it starts to put an end to the endless vitriol we've all come to assume is politics as usual.
What about you?  What philosophies or aphorisms inspire you?  Who are you rooting for in the BCS? No, don't tell me. Unless you're rooting for the Ducks.  Kidding.  What kinds of roots have you been watering?
Bamboo image from henryy, on Everystockphoto.  Tucson tears from the Social Citizen blog.