Expansion and Contraction, or Glumping and Haiku
Convincing a group of at-risk teens that writing is not only a useful activity, but a fun one, could be a bit of a challenge, wouldn't you say?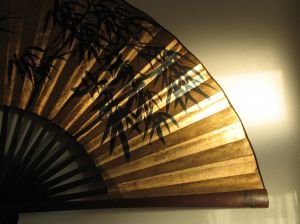 And that was my charge at a workshop I co-lead on Monday for an organization I volunteer for, Step It Up.  The nonprofit hosts a Career Club for high schoolers, giving them practical information on job-related activities such as business site visits, resume writing, informational interviews, and writing cover and thank you letters.  After a few months of this training, they graduate to actual internship positions.
But first they have to learn to write those resumes and cover letters.  And in order to do that they need to get over their fear and hatred of writing.  Which was our goal on Monday.  We led them through a variety of creative activities (anagrams, how many images can you draw in the circles, etc.) to loosen them up and then got to the writing.
Here was the brilliance (it was my co-leader's idea, so I can say that) of it: in order to illustrate the writing process, first we had them glump, then we had them write Haiku.  Thus showing how the initial step is to put everything out on the page in one glorious brain dump, and the second step is to fit it into a specific structure, such as a Haiku.  Expansion and contraction. We had them free-write on one career-related word of their choice, and then compose a Haiku using that same word.
I started thinking how useful an exercise this two-step process could be for writers, to loosen yourself up and get the juices flowing.  Try it:
1.  Glump.  Set a timer, use a prompt or a word, and write.  Keep that hand moving across the page. Don't censor yourself or even think very much.
2. Review.  This is an optional step, but it can be helpful to go through your glump and highlight sentences, words or phrases you like.
3.  Write a Haiku.  Take the same prompt or word and write a Haiku about it.  As a refresher, a Haiku is a three-line poem.  First line is 5 syllables, second line is 7, third line is 5 again. 
The great thing about Haikus is that they can be lyrical and descriptive, or silly and fun.  I once had a weeks-long email exchange with my wonderful friend Suzanne, in which we entertained ourselves by writing only in Haiku. 
So try it and let me know how it works out for you.  Leave a Haiku in the comments if you feel so inspired.
And remember, if writing Haiku fails to inspire you, my Get Your Writing in Gear sessions are on special through the month of March
Photo by Ayla87, from Everystockphoto.