Should You Hire A Ghostwriter or Write It Yourself?
Of all the things that I do, ghostwriting seems to garner the most interest.  Recently, Twitter and blogging buddy Patrick Ross mentioned in a comment that he'd like to hear more about it.  (He also passed along the Stylish Blogger award.  Thanks, Patrick!) So here you go.
In this post, I'm going to look at the difference between hiring a ghostwriter or writing the book yourself, perhaps with some coaching along the way.  In general, I'm a huge fan of writing the book yourself.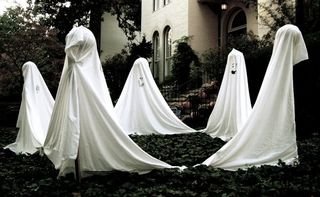 Why do I believe this?
Because even though it is a ghostwriter's job to enter the head of the client and write like he or she would, the most authentic voices still come from the client himself.   But sometimes writing it yourself just isn't possible.  So let's consider when you might want to hire a ghostwriter:
When you don't have time to write it yourself
When you don't have the inclination to write it yourself
When you know you hate writing
When you realize that your time could better be spent on other aspects of your business
When the subject you want to write about is way out of your area of expertise
Most political books are ghostwritten.  (Do you really think Sarah Palin or Al Gore has the time to write a book?  I actually have a passing acquaintance with the guy who helped Al with his book, help being a euphenism for doing all the work.) Some self-help books are ghostwritten.  (Again, can you picture Dr. Phil sitting down to write his very own little book?) And even some novels are ghostwritten.  (It was widely rumored that Margaret Truman's mysteries were ghostwritten.  And then you you have authors like what's his name, um….the guy who write the Alex Cross mysteries–Jame Patterson!  He has a whole stable of writers who churn out crap books for him.)
But you, my dear friend or client, are different.  You have a passionate idea inside you that your long to express into the world for a variety of reasons.  Perhaps you have a business you want to promote, or you desire to begin a speaking career.  Perhaps you are looking for a career change, or in loftier ambitions, have an idea that will change the world.  So have a book inside you that needs to come out.
And while it may be tempting to hire a ghostwriter, I believe that you have the chops to do it yourself.  Consider this:
Ghostwriting is labor-intensive and so it is expensive. 
There is nothing more satisfying than seeing your name on the cover of a book–and knowing you wrote it yourself.
Writing a book probably isn't nearly as difficult as you've made it out to be in that fertile brain of yours.
For some lucky reason, I think that book-writing is not only fun, but easy.  I think this harks back to my days in elementary school, when there was nothing I loved better than getting assigned a school report on a country, or a planet, or even something as simple as a bird.  I couldn't wait to find out what topic I'd be assigned, and once I found out, I sprinted to the library to start researching.  Love writing those reports.  And today I love writing books.
But I believe you can write your book yourself.  And that you can actually enjoy doing it.  I know, I know.  But trust me, it is possible.  
Because this post went in a slightly different direction than I first intended, and got long at the same time, I think I'll do another post on the same topic, slightly different focus, looking at ghostwriting more from the writer's side of things.
In the meantime, if I've convinced you to write the book yourself, I am offering a telelclass on Book Proposals That Succeed, and the early-bird pricing ends this Friday.  Check it out here.
 Photograph by katmere from Everystockphoto.com