This Is It
I had an epiphany this weekend.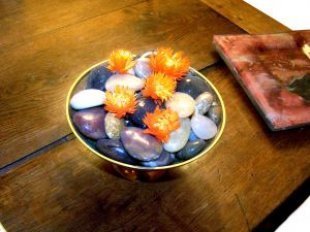 I just love me an epiphany, especially when it makes me feel happy and in love with the world again.  Not that I had fallen out of love with it.  Well, maybe a little.  Given a few little ups and downs and my anger at the idiots people who are running the country. (Note: I'm not pointing fingers at either side here, I'm fed up with the whole lot of them.)
So, anyway, the epiphany.  It came, actually, thanks to my ego.  That wondrous entity that really loves to point out to me that I am not thin enough, rich enough, successful enough, perfect enough, enough enough.  My friend the ego especially likes to point these things out when I am feeling most out-of-love-with-the-worldish. 
This weekend, when I was in the middle of journal writing, my ego whispered, "what if this is it?"
But the intent behind that whisper was: "what if this is it, if this is all you get, you stupid idiot.  What if this is it and you'll never achieve the success you desire, never get your novel published, never accomplish the things on your intention list that you read every morning…."  Like that.
And that was when the miracle happened.  Because sometimes epiphanies, when they are accompanied by that wonderful sense of letting go, feel like miracles.  The miracle was this:  I realized, that indeed, this is it.
And that this is it is wonderful.  And all I need. 
Because this is it is amazing and perfect and miraculous.  My this is it features a huge loving family, a charming little house with a yard full of flowers, a career I love with clients I adore, travel, a life devoted to writing and sharing it, a crusty, stinky old pug and two fat cats, sunshine and rain and the chance to live in one of the greatest small cities in the world.
And more, so much more:
Clean water that comes out of a tap, two strong legs to carry me on a walk every morning, an active brain and interesting things to focus it on, hands to engage in writing and making things, friends and colleagues and a whole other family at my church.
My this is it is nothing short of a flippin' full-on miracle.
And anything else that I get is icing on the cake.
What does your this is it look like?
***If this is your first time here, welcome!  Please join in the conversation.  And feel free to sign up for my bi-weekly newsletter by filling out the form to the right.  
**The cost of my Get Your Writing In Gear sessions is going up August 15th.  Book now at the current price and use the session any time you want.  Or buy it for a gift! 
Photo by Gastonmag.