Writing in the Rain: Monday Morning Round-up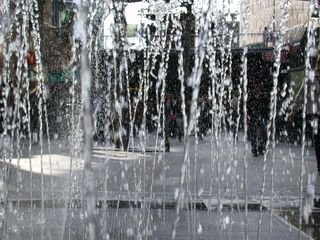 It is raining this morning.  I know, I know, I live in Oregon, its to be expected.  And, truthfully, I don't mind.  I love going out for a walk in the rain and coming back inside where its cozy, warm, and dry, to curl up with my writing or my reading.
And this morning my reading served up two good nuggets.
First, while eating my yogurt and nuts I read a review, by Jeff Baker, of Annie Proulx's recent lecture in Portland.  Apparently, she loves research and reads voraciously.  But what I loved the most about this article the advice she gave out to writers at a small private meeting the next morning (I sulked for a little while about not being invited).  Here are some of the gems:
Use times when you are waiting in line, for a flight, whatever, to work on descriptions of people.
Read your work aloud to yourself.  (Whenever I read my work or do a lecture, I always take a pen with me to the podium, because I can't help but edit when I hear myself read.)
Listen to the way people speak around you–hear regional dialects and everyday speech.
Draw a landscape to remember it.
For a writing project, research the years around your birth.  What was the world like back then?
Be interested in what you write.
Read the full article here.  It is worth it, there's some real gems.
And then, when I opened my inbox, I found a fabulous article by Chris Guillebeau, who gives reliably good advice, whether it is on travel hacking or creating your own unique way in the world.  The title of the post is "How to Write 300,000 Words in 1 Year," and in it he gives good tips on focus, one of my favorite topics.
One bit:
"Make your art your obsession.  Fall in love with it. Experience withdrawal symptoms when you don't give it your attention."
And another:
Rather than worry about quality, "Worry instead about getting your words in. [He strives for 1,000 per day, and he wrote this post while waiting for a delayed flight at the Nairobi airport.] Wake up early, stay up late, use that notebook you are carrying, appropriate those ten or fifteen-minute breaks in the day with nothing scheduled."
There's other good stuff on this post as well.
What are you best tips for writing?  Care to share?
***One of my best writing tips is to start with the images.  Learn how by downloading a free copy of my Ebook, Jump Start Your Book With a Vision Board.  Sign up in the form to the right and you'll also get a free subscription to my newsletter!
Photo credit: imageafter, from Everystockphoto.