Emma Jean's Bad Behavior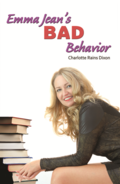 My novel available now!
Buy from Amazon.
Buy from Powell's.
Buy from Barnes and Noble.
"I have three kids under the age of 5 but I managed to finish this book in under a week because I couldn't put it down." Molly, 5 Star Amazon Review
"This well-written, funny, poignant, amazing book has opened up a whole new fiction genre for this lover of dystopian fiction." Samantha, 5 Star Amazon Review
"I just spent a weekend with Emma Jean and had such fun!" Jenni, 5 Star Amazon Review
Here's the synopsis:
At age 48 (43 according to her blog, Life, Full Tilt) best-selling novelist Emma Jean Sullivan has longed for a baby for years, but after she and her husband Peter are unable to conceive, she staunchly vows to become the standard bearer for all childless couples. And she succeeds spectacularly. Emma Jean's novels, up until recently, have sold millions, and she enjoys a rabid baby-hating fan base. But now she confronts a dilemma larger than any her heroines have faced: she's pregnant. And the baby's father is not her husband.
Through no fault of her own (he was just so damned adorable), she began a passionate affair with Riley, a fetching airplane mechanic she met at a book signing in LA. The rapturous relationship reorders her priorities, and she realizes that her life isn't quite so blissful as she formerly believed, though she struggles valiantly to maintain her marriage and her sham brand throughout her wrenching travails.
Her husband is busy embezzling Emma Jean's money and completely uninterested in fatherhood, and her lover has his hands full with problems of his own. Not only that, her latest novel is a miserable failure, and a Vanity Fair reporter, who plans to out Emma Jean's pregnancy to her fans, is stalking her. What's a suddenly broke, failing, middle-aged pregnant novelist to do? Why, flee to a glamorous resort town, of course. There, Emma Jean seeks privacy to figure out her next move—and finds unexpected spiritual and emotional solace.
And don't forget–we authors love reviews! Please consider taking a few minutes to write a review (not just for me, but for all authors.)