Guest Post: It's Between the Page and I, 6 Things I Learned Over 10 Days of Morning Pages
While I'm on retreat, I've got a variety of guest posts for you.  Today, please welcome Resham Khiani, as she writes about morning pages.
It's Between the Page and I, 6 Things I Learned Over 10 Days of Morning Pages
It's 8:00am on Saturday morning.
Another long, hard week in London has come to an end and I'm looking forward to a cosy lie in…. until the challenge I've set myself bursts my bubble.
For 10 days straight, I will be doing my Morning Pages Exercises. For those of you who are new to hearing it for the first time, they are an exercise devised by Julia Cameron, author of The Artist's Way. The concept is basic: write three long hand pages, non-stop once you wake up in the morning. It doesn't matter what you write, just write…. even if it's line after line of "I don't know what to write,"  your subconscious mind will kick in and messages will appear.
Bleary eyed, I made my way to the kitchen, prepared a green tea and grudgingly sat at my desk. "I'm too tired to write" – the voice of sabotage has arrived. I gently say to shut up or I will smack it (I know, I know, it's weird, how on earth can anyone smack their conscious mind?!). A sip of green tea and my hand begins to glide, almost insanely, within seconds. Scribbling messily, sloppily, uncontrollably I see I'm just whinging and moaning about all the things in my life. I'm fed up, tired, can't be bothered and don't want to take responsibility of my life.
But then, I feel an urgent message coming along, something profound, almost spiritual. I'm alert. I'm ready: "Do you remember what it was like to fall in love?" Before I answer this message, my subconscious begins misbehaving and complaining how annyoing my flatmate has become. It begins hatching a plan all by itself, with me, merely being an onlooker with no say. All I know is, the retalation is quite harsh. And then I hear: "muhahahahaha." Note to reader: writing down the evil laugh diminishes it's effect.
Each day, of course, was a battlefield with the mind. Getting up on time to actually do the exercise was a challenge; however, I remained disciplined throughout. Looking back at my pages, I could see myself swinging from exhilarating happiness, to downright depression, to simmering, passionate feelings and finally spiritual, optimistic statements. The Morning Pages revealed so many messages in a short space of time. And they were:
1) I write a lot about sex, so much so, I make myself blush after I finish reading it! (I blame the Mills & Boon romance books I read on a regular basis, whereas Sigmund Freud will blame me for suppressing my natural instincts).
2) I goad myself to set up my own business, based on NLP and helping woman change their beauty beliefs.
3) I have a depressive and philosophical streak in me enough to put Milan Kundera (author of The Incredible Lightness of Being) to shame.
4) Apart from being depressive, at the base of it, I'm optimistic, and realise I have the power to direct my thoughts.
5) I question myself too much: I live too much in the future or past,without fully being present.
6) I am a diva.
Putting ink on paper, coupled with honesty is a revelation to oneself. Morning Pages have switched on my intuition, my creativity, my belief of trusting myself. I realised I had fallen out of love with my life and my creativity – hence the reason why I got such a message. As a result of being persistent with the exercises, I no longer walk around with a feeling of frustration or anger because I've dealt with it on paper. I'm free from negative emotions and drama. Funnily enough, my life has become simpler, more fun, opportunities are flowing, inspiration is soaring. I'm writing a lot more, I've got a few romantic dates lined up and certainly feel life is on my side. Perhaps getting up on the first morning really was the beginning of a new life……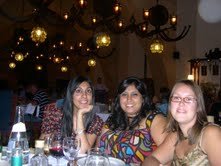 Resham Khiani (on the left in the photo) is the founder of InnerBellissima blog, devoted to helping
woman change their beauty beliefs. She writes regularly on her blog.