Does Your Habitual Thinking About Writing Serve You?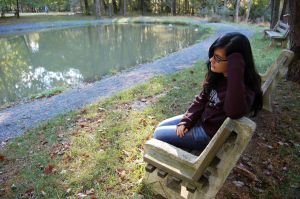 The other night, in the middle of the night, I came to a realization (I guess being wakeful has its uses). The realization was this: every time I think of something I want, my next thought is, but I can't afford it.  It doesn't matter if I'm thinking about buying a luxury automobile or a five cent piece of candy, every thought about something I may buy is inexorably linked to I can't afford it.
Talk about habitual thinking.
Talk about negative habitual thinking.
This thought was so ingrained that it took a drowsy, unguarded moment to shake it loose, and I was actually amazed that I remembered it in the morning.  As I thought about it, I pondered buried habitual thoughts and wondered how many I might harbor about writing.  Quite a few, I'd wager.  Thoughts like:
I'm a writer. But I'm unpublished.
Not too harmful, right?  Except that what we focus on grows.  So how about changing that thought to:
I'm a soon-to-be published writer.
Great, you say, except…..it's not so easy.
Yeah, I hear you.  And I've also been working diligently on changing my habitual thoughts for years.  The morning I woke up with the realization I think I can't afford anything, I wrote down the process I use for changing thoughts and herewith share it with you. 
1.  Be Aware.  This is probably the hardest part–figuring out what those habitual thoughts are. Once you start to pay attention, it gets easier.  The old stalwart brain training rituals like meditation or exercise will help here also.
2.  Feel.  It's not enough to become aware, you've also got to feel it in your body.  You've brought it up from the murky depths, don't let it sink back in.  What part of your body does it lodge in?  How does it make you feel? Concentrate on it and allow it to intensify.
3.  Cut Cords. Imagine fine silky cords running between your original thought (I'm a writer) and your negative thought (But I'm still unpublished). Now lop those cords off.  That's right, go ahead and snip 'em.  If you believe in guides and spirits you can ask one of them to do the cutting. Doesn't matter.  Just get rid of the cords.
4. Think a New Thought.  One unencumbered by negativity.  Like, oh, say, I'm a writer.  Plain and simple.  Because you are!
5.  Rinse and Repeat.  Whenever you're feeling down, look at your thoughts.  And repeat this process as needed.  It really does help. 
In general, changing your thoughts makes a huge difference.  At the very least, it is way more pleasant to think positive thoughts than negative thoughts.  At the very most, it could make an enormous difference in your writing career. (Because, what we focus on is what grows.)
So, tell me–how do you deal with habitual negative writing thoughts?
***And don't forget my Get Your Novel Written Now class, gearing up for a new session in October.  Sign up here.
Image of woman sitting on the bench by Zizzy0104.