Making the Magic Happen: Committing to a Writing Schedule
Writing is magic.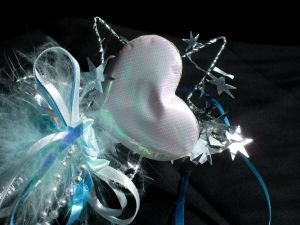 We think up an idea, and put it on the page.  Whole worlds spring to life beneath our fingers.  And all we need to do this, at base, is a pen and paper.  Oh, sure, a typewriter or computer helps, but if worse came to worse you could do without one and still write.
What you do have to come up with is time to make the magic happen.  You have to sit at your desk, or your arm chair, or in the coffee shop, and put words on the page.  And that takes time.
And that is where many of us falter.  Me, too.  I struggle with finding time just like everyone else.  But lately I've realized that all my important non-writing activities stretch to fill the time I allot them.  So, if I give myself all day to read three manuscripts, that's how long it will probably take me.  And if I give myself all day to read said manuscripts, I won't get any writing done.
And therein lies the problem.
With the necessity of doing marketing around my book release, many days this winter I became a writer who didn't write.  Well, there were blog posts.  And there were guest posts and interviews and ariticles, all of which I love.
But in my heart of hearts, its not the same as working on fiction.  And if a fiction writer is how I identify myself, if that is what I truly want to be, then I need to find time to work on it consistently.
I used to get up and work on it first thing in the morning.  But that schedule no longer works for me–I simply have too many emails and other internet chores pulling on me to allow me to focus.  I'd sort of pretend I was writing and actually get about 20 minutes in.  Not conducive to making progress on a WIP.  I was working on it, but in fits and starts–a stolen moment here, a bit of time there.
Last week, in my travels around the web, I read an interview with an author said that she wrote every morning from 9 to noon.  (I wish I knew who this was or where I read it, but I can't remember.)  This struck me like a thunderbolt.  Bad cliche, sorry, but it did.  I realized that if I put myself on a schedule like that, I'd actually get my writing done. 
And so I did.  I'm now writing from 9 to noon every day.  I'm showered and at my desk by 9 AM.  No more stretching internet time until 8 AM, then working on the crossword puzzle for awhile and getting in the shower when I felt like it.  (Hey, its the benefit of working at home.)  Nope, I'm ready to write at 9 AM sharp.  And I'm getting a ton done.
What I wasn't so sure about was getting everything else done, but so far that hasn't been a problem at all.  I've always harped on said that when you make your passion your priority, everything else magically falls into place.  And it is true.  I'm simply much more focused.  Plus, the high that comes from fiction writing follows me all day, allowing me to power through dumb chores and errands with joy. 
I really can't describe how profound this change feels. 
I've got an exciting new ghostwriting job coming up, and a couple other things in the works, so we'll see how I stick to the schedule when those come in.  But in the meantime, don't call me in the morning, because I'll be writing.
Do you schedule writing time?  Are you able to stick to it?  What works for you?