On The Road
Last week I drove to Baker City, Oregon with my friend Sharon.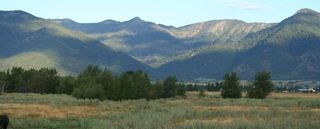 Yeah, I know, a lot of people here in Portland don't know where Baker City is, either.  (For the record, it's about five hours east of here, in the dry side of the state on a high desert plateau surrounded by gorgeous mountain ranges.)
It was a quick trip, just overnight, and a long drive for the amount of time that we actually stayed in town.  But, like most travel, its had an impact on my writing.  I'm not writing about Baker City directly, (except in this post), and most likely its not going to creep into my novels or stories in the future (although you never know). 
But it has informed my writing since I returned, because my mind keeps going back to:
–driving for miles beside the blue expanse of the Columbia River
–taking a deep breath and driving up (and down the next day) the slightly hairy grade over the Blue Mountains
–watching the temperature climb to 107 and stay there for hours as we drove home
–staying at the historic and wonderful Geiser Grand Hotel
–eating dinner in the bar of said hotel and enjoying great conversation with other guests
–hanging out in the hotel room (there are few things I love more than a hotel room)
–checking out shops on Main street
–driving around the small town, looking at the Victorian houses
There's just something about getting away that inspires me.  I've written about this before, most recently when I spent ten days in Louisville in May at my MFA alma mater.  I travel to Nashville regularly to teach, and I'll be heading to France at the end of the summer to host a writing retreat.
But, really? It doesn't matter where I go, whether by car or plane.  I just love getting out in the world and it always, always, always loosens something in me that translates to words on the page.  Whether it is describing the new landscape I find myself in while journaling, or turning somebody I've met into a character in a book, travel always inspires me.  It expands my brain, and trust me, the old noggin can always use some expansion.
Does travel inspire you or make you cringe?  (Some people really don't like it.) Where have you gone (or are planning to go) this summer? 
I stole the photo from the Baker City website, but I don't think they'll be too upset with me.